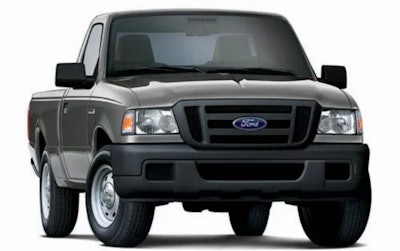 The U.S. Department of Transportation's National Highway Traffic Safety Administration (NHTSA) reports that it's deeply concerned that certain higher-risk 2006 Ford Rangers and Mazda B-Series trucks with defective Takata airbags are not being repaired fast enough.
These vehicles are under a "do not drive" warning and as such are required to have their air bags replaced immediately. NHTSA is issuing a second public plea to owners to schedule a free repair today for their own safety and the protection of their loved ones.
"NHTSA's number one priority is making sure that everyone is safe on our roads. I cannot stress strongly enough the urgency of this recall – these airbags are dangerous," said NHTSA Deputy Administrator Heidi King. "Every vehicle must be accounted for now."
NHTSA is calling on the media, safety advocates, and the public to help spread this urgent safety message to ensure it reaches owners, particularly in the following media markets where many of the vehicles are located: New York, New York; Los Angeles, Calif.; Chicago, Ill.; San Francisco, Calif.; Dallas-Ft. Worth, Texas; Houston-Galveston, Texas; Washington, D.C.; Atlanta, Ga.; Philadelphia, Penn.; Boston, Mass.; Miami-Ft. Lauderdale-Hollywood, Fla.; Phoenix, Ariz.; San Diego, Calif.; Portland, Ore.; Riverside-San Bernardino, Calif.; San Antonio, Texas; Austin, Texas; West Palm Beach-Boca Raton, Fla.; Knoxville, Tenn.; Wilmington, Del.; and the U.S. Territory of Puerto Rico.
According to the manufacturers, 49.2 percent of the 33,320 impacted 2006 Ford Rangers and 58 percent of the 2,205 impacted Mazda B-Series trucks have been serviced. Both Ford and Mazda have authorized their dealers to tow these vehicles free of charge so consumers can safely obtain the free repair.
To stay informed and safe, NHTSA urges all drivers to take the following five actions to make sure they are kept informed of current and future recalls.
Visit govto find out if your car or truck is under recall. Search using your Vehicle Identification Number (VIN). Your search result will tell you if your car or truck is included in this or any other safety recall at this time. Vehicles scheduled for future recalls will not show up in this search, so it is important that you check regularly, at least twice per year.
If your vehicle does have a recall, call your local dealer to schedule the free repair. Just remember that in the Takata air bag recalls, there are priority groups; parts are only available for certain vehicles starting at certain dates.
Sign up at gov/Alertsto be notified by e-mail if your vehicle is affected by a future recall.
Get answers to frequently asked questions at gov/takata.
Help spread the word: share NHTSA's consumer fact sheet and video with friends and family.
Stay connected with NHTSA: Search for open recalls with NHTSA.gov/Recalls | Download the Safercar Mobile App for Apple devices | Receive recall alerts by e-mail | Visit us on Facebook.com/NHTSA | Follow us on Twitter.com/NHTSA.gov | Watch 5-Star Safety Ratings crash tests on YouTube.com/USDOTNHTSA.