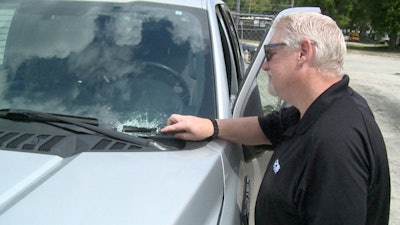 The National Insurance Crime Bureau is warning once again about an online auto sales scam that can quickly rip-off unsuspecting buyers.
One victim lost $20,000 after buying a 2017 F-150 4×4 through OfferUp. Anthony Callegari of Deltona, Fla. paid cash for the truck after meeting with a man at a gas station.
"We test drove the vehicle. It ran perfect," he said. "The title seemed perfectly clear. The VIN came back clean."
Callegari bought the vehicle and went to the DMV a couple of hours later to register the truck where they told him that the title was fake.
"At that point, I tried contacting the guy, but he disconnected the phone already," Callegari said.
Callegari then reached out to law enforcement for help. Both the Daytona Beach Police Department and the NICB responded and determined that the truck had three VIN plates glued to the top of the original. One of the VINs was traced to another F-150 that was at a car dealership in Sunnyvale, Calif.
History on the truck's original VIN revealed that it had been reported stolen in Yulee, Fla. in February.
The NICB reports that the truck thief may have offered the truck up for sale several times. An aftermarket GPS location device was found on the pickup which investigators think the thief may have been hoping to use to locate the truck later and steal it again.
"We get a lot of them here unfortunately in Florida. A lot of our thefts have been cloned or retagged with fraudulent VIN numbers," said NICB Special Agent Todd Blair.
Since the vehicle was stolen and the insurance company had paid the claim, police confiscated it leaving Callegari without a truck and no recourse to regain his $20,000.
"Scams like these have all the appearances of being legitimate sales," said NICB President and CEO Joe Wehrle. "However, these alleged criminals are selling stolen VIN-switched vehicles and the buyers are being scammed out of thousands of dollars."
The NICB offers these tips to help you avoid becoming a victim of vehicle cloning:
Be careful when purchasing a used vehicle from someone advertising it online or in a newspaper
Any face to face meetings should take place at a location that is highly public, preferably at a police station
Use the free NICB VINCheck system and a vehicle history report to look for red flags
Have the title and VIN number checked by authorities before putting down any money
Trust your instincts. If a used vehicle price sounds too good to be true, walk away
Anyone with information concerning insurance fraud or vehicle theft can report it anonymously by calling toll-free 800-TEL-NICB (800-835-6422), texting keyword "fraud" to TIP411 (847411) or submitting a form on the NICB website. Or, download the NICB Fraud Tips app on your iPhone or Android device.