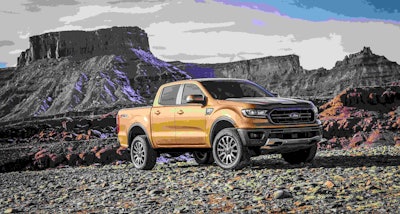 Ford released a video of its upcoming 2019 Ford Ranger going through some challenging tests.
Watch Ford's highly anticipated midsize redux as it hits the trails in Arizona, the Australian Outback and at Ford's Michigan Proving Grounds.
"We torture every component – from its high-strength steel frame to its EcoBoost engine to its cloth and leather-trimmed seats – to ensure Ranger is ready for any season and nearly any terrain," said Rick Bolt, Ford Ranger chief engineer.
As you look at footage from the rough ride at Silver Creek track, notice that Ford has opted to use robots instead of people. The company said it chose to use robots so that human drivers don't get injured.
Look for a towing test at the long, steep grade of Davis Dam in Arizona. In the lab, a four-post shaker table abuses Ranger for days to check against squeaks and rattles.
Look for Ranger at dealers in early 2019.