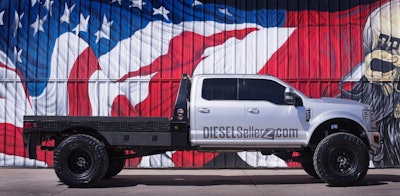 The Diesel Brothers massive Ford flatbed on display at SEMA in November caught our attention.
And it recently caught the attention of a buyer on eBay who forked over $125,000 to buy the 2017 F-450 Lightning Ultimate Platinum Alumiduty SEMA Build.
Prior to the sale, Dave Sparks, a.k.a. Heavy D, announced on Facebook: "My new F-550 just got here which means it's time to sell Lightning. This truck has been my baby and is truly one of a kind."
Ever the wheeler-dealers at Spark Motors, the eBay post for the Sparks Motors & ReadyLift build reads:
"May consider partial trades for newer diesel trucks at NADA value, Diesel Pusher RV or Toterhome, recreational vehicles, newer boats, or anything else that's awesome or of good value to us."
Below are the specs on the truck along with some additional pictures including those we shot at SEMA this past November at the ReadyLift booth.
Truck Details posted on eBay:
Base Truck was Custom Ordered from Ford with Every available upgrade option (except for inflatable rear seat belts).
Custom long wheelbase conversion
Custom "Sparks Motors" Bradford Built Flatbed with custom locking side boxes
Panoramic sunroof
Like new 42-inch Super Single Goodyear Tires (Truck could be reverted to be a super dually for the right deal)
20-inch military aluminum wheels with American Force Centers
Kelderman Rear Air ride Suspension
Custom ReadyLift 8-inch Lift with Bilstein Shocks
Rotopax spare fuel tanks
FLOG Steel Front Winch Bumper with 15,000-pound Mile Marker Winch
All paint matched trim and headlights
Max Liner Molded front and rear floor mats
Custom RK Sport high air flow hood
Rig only has 11,000 original miles