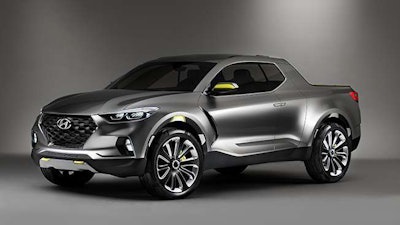 Hyundai is still pledging to launch a pickup in the U.S. though its delivery date has been postponed.
Following the successful debut of the Hyundai Santa Cruz at the 2015 Detroit auto show, former Hyundai CEO Dave Zuchowski set out to capitalize on the growing popularity of pickups and kept pushing for the truck to be added to the company's car-only line-up.
With dealers also pouring on the pressure, company execs eventually caved in and planned to have the truck arrive in showrooms this year as a 2019 model.
However, when Zuchowski was fired in late 2016 for not meeting company sales goals, the truck lost some of its luster, but it didn't get booted out of line.
Zuchowski's replacement, Hyundai CEO Brian Smith told Motor Trend that the truck will roll out to dealers in 2020.
"We love it," Smith said of the five-seater based on the Tucson compact crossover. "We talk about it a lot."
Hyundai's Santa Cruz concept pickup won Concept Truck of the Year at the 14th annual North American Concept Vehicle of the Year (NACVOTY) Awards in July 2015 at the Concours d'Elegance of America at St. John's.
The truck featured an eco-friendly 2.0-liter turbodiesel engine (190 horsepower, 300 lb.ft. of torque) which powered Hyundai's HTRAC all-wheel drive system.