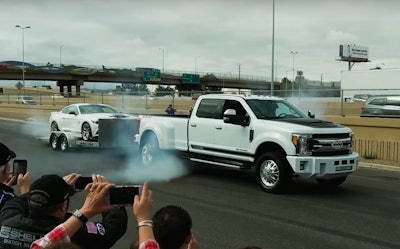 Watching a Shelby 1000 F-350 dually smoking its tires is impressive.
It's even more impressive when the car it's hauling—in this case, a Shelby Mustang—is also burning rubber at the same time on a trailer.
The new Shelby 1000 F-350 & F-250 package, which will be available in the second quarter of this year, takes torque to over 1,000 foot pounds and adds plenty of Shelby touches, including heavy-duty bumpers, LED lighting and a Shelby designed hood.
Other features:
Shelby 1000 striping and badging
Borla exhaust tips
Shelby tailgate insert
Shelby grille insert
20-inch front bar
4-inch cube front x 4
4-inch cube rear x 2
Cold air intake
20-inch forged aluminum wheels
35- x 12.5- x 20-inch tires
Shelby by Katzkins premium leather
Shelby 1000 floor mats
Carbon fiber appearance package
Serialized dash plate
Serialized engine plate
Package prices start at $22,595 or $24,995 for a dually. Production will be limited to 250 units per model year.