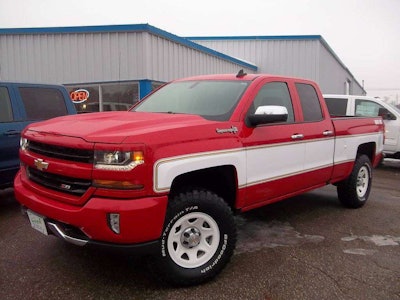 At least two Chevy dealerships in the U.S. and two in Canada are offering a retro Big 10 conversion on the 2018 Silverado which is quickly gaining traction among fans of the iconic truck.
Introduced in the early 1970s, the Cheyenne Super 10 is easy to spot thanks to its distinct two-tone paint job and Big 10 badging. Look for it again on the 2018 Silverado which is being offered by at least two Chevy dealerships: Blake Greenfield Chevrolet Buick in Wells, Minn. and Valley Chevrolet in Wilkes-Barre, Penn. Regardless who's selling it (Blake Greenfield Chevy claims to be the first), the retro truck's getting a lot of praise including a big endorsement from longtime Chevy devotee and retired NASCAR great, Dale Earnhardt, Jr.
"Damn this is a great idea," Earnhardt Jr. posted on Twitter along with a picture of a red and white 2018 Silverado Retro Big 10.
In a video posted below, Valley Chevrolet lists the following details on its Retro Big 10 Conversion: 3.5-inch lift kit, 18-inch rally wheels with BF Goodrich white lettered tires (All-Terrain T/A), a two-tone decal package, Big 10 special emblems, chrome mirror covers and chrome door handles. The $8,000 conversion raises the MSRP to $57,474.
Blake Greenfield Chevy lists their four-wheel-drive, double-cab Z71 2018 Big 10 at $51,410. Silverados from model years 2014 to 2018 are eligible for the conversion at the Minnesota dealership.
The retro Big 10 continues to win over fans, including discerning Bow Tie followers.
"Considering how far truck styling has come since the Cheyenne was introduced in 1971, you'd think that any attempt to apply it to a new Silverado might turn out to be an unmitigated mess. But you'd be wrong. Because as you can see, the fine folks at Blake Greenfield Chevrolet Buick pulled it off better than we could have ever imagined," reports chevroletforum.com.
Canadian dealerships selling the retro package include Northgate GM in Alberta, Edmonton and Barber Motors in Weyburn, Saskatchewan.