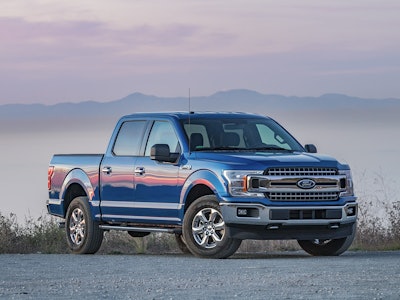 Consumer Reports announced that the 2018 F-150 has earned the top spot among pickups in its annual auto rankings.
The award summary published online by Consumer Reports includes accolades for cutting weight, impressive mpg and powertrain performance and features:
The best-selling vehicle in America is an impressive, innovative workhorse. The F-150 pulls ahead of the pack thanks to its weight-reduction design and turbocharged six-cylinder engine. This strategy delivers a standout 19 mpg overall, quick acceleration, and effortless towing ability from the potent 2.7-liter turbo V6 engine. Clever features abound, from the Sync 3 infotainment system to Pro-Trailer Backup Assist, which simplifies the otherwise tricky task of backing up while towing a trailer. The crew cab features a spacious rear seat and ample room for tools and gear. Ultimately, the F-150 won't offer as smooth a ride as a car or an SUV, but it's an excellent truck.
A full review on the 2018 F-150 along with performance scores are available at Consumer Reports website.
Vehicle scoring is based on four categories: road test, reliability, owner satisfaction and safety.
"We're pleased the Ford F-150 is Consumer Reports Top Pick for Full-Size Pickups, which is further validation that it's smarter, more capable and more innovative than ever as America's best selling truck for 41 years," said Ford Trucks and Commercial Vehicle Communications Manager Dawn McKenzie.
News of Consumer Reports top scores for Ford's 2018 F-150 marks a U-turn for the publication which in late 2016 had placed the F-150 on its 'No longer recommended list' owed to what it said were reliability problems.