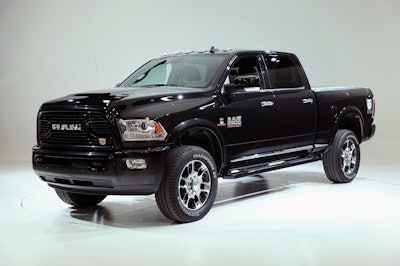 FCA is voluntarily recalling an estimated 180,975 trucks in the U.S. to help prevent occupants from inadvertently shifting their vehicles out of park.
An FCA US investigation discovered the Brake Transmission Shift Interlock (BTSI) may overheat on certain vehicles equipped with steering column gear-shifters. This condition has been linked to protracted brake-pedal application while vehicles idle in park.
If overheating occurs, a vehicle's shifter may be repositioned without brake-pedal application, or the presence of a key in the ignition. Unless the vehicle's parking brake has been set, as recommended in FCA US owners' manuals, such circumstances may lead to inadvertent movement.
The company is unaware of any injuries or accidents related to this recall, which is limited to vehicles equipped with gear-shifters on their steering columns.
Affected are certain 2017-2018 Ram 2500 and 3500 pickups, and certain 2017-2018 Ram 3500, 4500 and 5500 chassis cabs; 2016-2017 Ram 3500 chassis cabs with a Gross Vehicle Weight Rating (GVWR) of less than 10,000 lbs. Certain 2017-2018 Ram 1500 pickups are also included in the campaign, but heavy-duty trucks represent the majority of affected vehicles.
Customers will be advised when they may schedule service. In the interim, FCA US reminds all customers to follow the recommended operating instructions in their owners' manuals; those with questions or concerns may call the FCA US Recall Information Center at (866)-220-6747.
Additional populations of these vehicles are also being recalled in Canada (est. 42,045); Mexico (est. 4,066) and certain markets outside the NAFTA region (ext. 1,422).