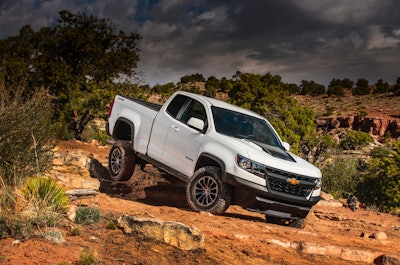 The Chevrolet Colorado ZR2 is on a roll.
Cars.com announced today that it's given the midsize truck its award for Best Pickup Truck of 2018. This news comes just a week after the Colorado ZR2 was named Pickup Truck of the Year by Four Wheeler magazine.
Cars.com and PickupTrucks.com editors praised the truck's "almost perfect combination of passion and technology," noting that it's, "not just an interesting example of a new pickup truck, but is quite possibly the most distinctive vehicle that's come along in years."
Paul Edwards, U.S. vice president of Chevrolet Marketing, said the company's dedication to building a distinct midsize truck has paid off in a big way.
"To fully compete in the off-road space, we couldn't just launch with a 'me too' vehicle," Edwards explained. "As part of our strategic plan and continued investment in our truck lineup, ZR2 builds on the boldness of the Colorado program. Our midsize truck line has defied naysayers by selling more than 300,000 trucks in three years, and ZR2 adds forward-looking technology and innovation to the recipe to reach an entirely new group of off-road enthusiast customers."
Chevy reports that the ZR2 is effectively a segment of one, combining the nimbleness and maneuverability of a mid-size pickup with a host of new off-road features and the most off-road technology of any vehicle in its segment.
Compared to a standard Colorado, the ZR2 features a three-and-a-half-inch wider track and a two-inch suspension lift. Functional rocker protection has been added for better performance over rocks and obstacles, and the front and rear bumpers have been modified for better off-road clearance.
Class-exclusive features include front and rear electronic locking differentials, available diesel engine, and the first off-road application of Multimatic Dynamic Suspensions Spool Valve (DSSV) damper technology.