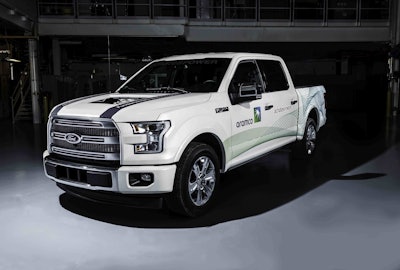 A California-based engine company has breathed new life in old technology that offers impressive power, fewer emissions and a smaller price tag.
Achates Power out of San Diego revealed their two-stroke, fuel-sipping Opposed-Piston Gasoline Compression Ignition engine this week at the 2018 North American International Auto Show.
Achates reports that the 2.7-liter 3-cylinder engine, installed in a late model F-150, delivers 270 horsepower and 480 lb. ft. of torque while achieving 37 mpg, or nearly five MPG better than the proposed CAFE 2025 requirements for a vehicle of a similar size. (A video of the engine and its performance curve chart are posted below.)
"We chose to demonstrate our ultra-clean, ultra-efficient OP Engine in a full-size light-duty pickup truck because of the significant need and opportunity for improvement in this segment," said David Johnson, president and CEO, Achates Power. "These trucks are driven more miles, sold in higher volume, consume more fuel and emit more CO2 than other light duty vehicles. Using our OP GCI engines in light duty trucks would reduce CO2 and fuel usage in the same way as completely eliminating half of all cars sold each year. Using our OP GCI engines in future light trucks has the same fuel savings and CO2 reduction as completely eliminating more than half of the cars sold each year."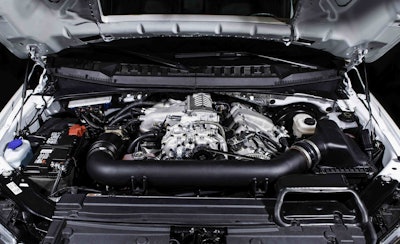 Engine performance is achieved without vehicle modifications and, according to Achates, is projected to cost $1,000 less per vehicle than widely accepted technology roadmaps currently being considered by OEMs.
The Achates Power Opposed-Piston (OP) Engine is engineered to achieve superior thermal efficiency by virtue of its lower heat losses, improved combustion, and reduced pumping losses. The OP Engine eliminates the cylinder head for an improved surface-area-to-volume ratio of the combustion chamber for reduced heat transfer and rejection. In addition, conventional engine valvetrain and related components are eliminated, and due to the architecture the OP Engine offers a reduction in the aftertreatment system size and cost – a comparison between the 2.7-liter OP Engine and a comparable V6 with supercharger shows a part reduction of more than 60 percent, enabling an approximate 10 percent cost reduction.
"An Opposed-Piston Engine is 30-50 percent more fuel efficient than comparable diesel and gasoline engines, it is a no-excuses way to meet future efficiency and emissions standards," said Johnson. "The technology and infrastructure to meet these future standards exists and will be available for consumers in the near future."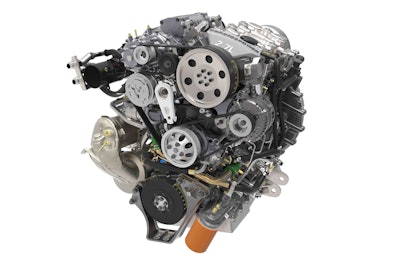 Achates Power is showing the light duty demonstration pick up truck in the Aramco display as part of a joint development agreement. Achates Power and Aramco have agreed to work together on a series of projects to develop and demonstrate highly efficient and clean OP engines. The first project to be announced is the in-vehicle demonstration of the 2.7-liter OP Engine.
The OP GCI engine was designed and developed by Achates Power with a $9 million award from the Department of Energy's ARPA-E, along with partners Delphi and Argonne National Laboratory. Testing of the OPGCI engine was conducted at Argonne, and Achates Power facilities in San Diego.
Development and testing of the new 2.7-liter engine will continue at Achates Power facilities, and at Aramco Services research center in metro-Detroit. Based on current testing, the engine is anticipated to be fully integrated into the vehicle and drivable in late 2018.