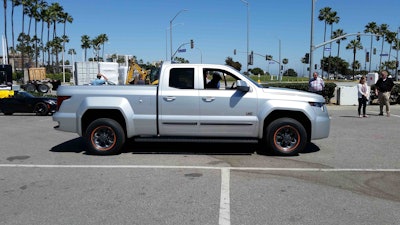 Workhorse announced this week that pre-orders for its W-15 range-extended electric pickup have now been open to the public.
The double-cab truck, which stickers for around $52,500 before incentives, was originally made available to fleets and racked up around 5,300 pre-orders. Now anyone can plunk down $1,000 for the first plug-in hybrid pickup built by a U.S. manufacturer.
"Over the past months we have received thousands of emails offering support, ideas, and inputs," W-15 Consumer Advocate Tony Bort wrote in an email. "Thanks to you and the tireless efforts of the Workhorse R&D team I am thrilled to announce that we have opened W-15 reservations for everyone! We believe that the W-15 will be the safest, highest performance, lowest total cost of ownership pick-up truck."
The W-15 is designed to run on all-electric power first, around 80 miles on average, before switching to its three-cylinder BMW I3 engine which will provide up to 300 miles on a tankful of gas. In electric mode, anticipate 75 MPGe. The engine is rated at 28 MPG highway and 32 city.
Payload capacity of the W-15 is rated at 2,200 pounds and towing at 5,000 pounds. For now, the bed is available only in a standard configuration. Features include collision avoidance/auto-braking, lane departure warning and 7.2kW of exportable power.
Fleet pre-orders will start to deliver in late 2018.
"We will keep you informed as delivery dates approach in 2019. Order now and reserve your place in line!" Bort writes.
Workhorse expects the W-15 to be eligible under current U.S. legislation for a $7,500 tax credit. Specifications and additional information on the vehicle including total cost of ownership, safety, and performance features can be found here.