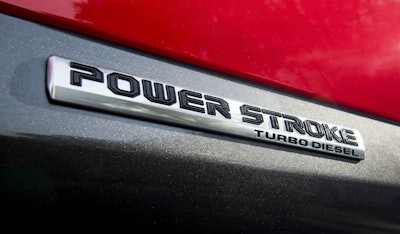 Ford's first-ever F-150 Power Stroke diesel will hit the market this spring with segment best torque, towing and fuel economy the company announced today.
Ford's Vice President of Global Powertrain Engineering Dave Filipe – calling the 3-liter Power Stroke "[the] V6 engine that dreams are made of" – says the sixth engine option for the flagship F-Series pickup features 250 horsepower and 440 lb.-ft. of torque, with an EPA-estimated 30 mpg highway rating. Filipe notes that peak torque comes at just 1,750 rpm with torque delivery continuing throughout the rpm range – ideal for towing or hauling heavy loads over long distances.
"The more you tow and the longer you haul, the more you'll appreciate its class-leading towing and payload capacity and how efficient it is at the pump," he says.
A best-in-class towing capacity of 11,400 pounds and a 2,020-pound payload capacity come thanks in part to commercial-grade technologies borrowed from the larger 6.7-liter Power Stroke. The new V6 diesel also borrows the compacted-graphite iron block construction and forged-steel crank used in the 2.7-liter EcoBoost.
F-150s spec'd with the diesel option get the same high-strength, military-grade, aluminum-alloy body as their gasoline counterparts, which shaves about 700 pounds from the truck's overall construction.
For 2018, stronger axles – coupled with the fully boxed, high-strength steel frame – add further robustness.
The 3-liter Power Stroke uses a high-efficiency variable-geometry turbocharger, which improves responsiveness and reduces turbo lag. A common-rail fuel injection system optimizes performance and fuel efficiency. Auto Start-Stop also comes standard, another nod to fuel efficiency. Dual fuel filters are added for improved break-in, while a cast-aluminum oil pan and two-stage oil pump offer reduced parasitic loss and improved fuel efficiency. A high-pressure 29,000 pounds per square inch injection calibration enables smoother, quieter operation with reduced emissions.
The newest F-Series diesel uses a mechanical cooling fan driven by the engine and dual radiator shutters for improved high temperature/high-altitude performance, a setup that Ford Diesel Engine Technical Specialist David Ives says isn't a performance drag under extreme load like an electric fan.
"We know that competing diesels with electric cooling fans have to dial back on power under extreme heat and altitude, so we decided on a viscous-controlled mechanical fan that has the capacity to move much more air across the radiator and intercooler in extreme conditions," he says. "This gives F-150 Power Stroke owners more power and more passing capability in harsh conditions."
In more moderate driving and towing conditions, the F-150 engine control system scales back fan load through a viscous coupler and closes the two radiator shutters for improved aerodynamics and reduced parasitic engine loss.
A standard SelectShift 10-speed automatic transmission has been calibrated specifically for the 3-liter Power Stroke's low-end power and torque curves, and features maximized shift points and gear ratios that optimize power, low-rpm torque and efficiency. The transmission can non-sequentially select the proper gear ratio based on need.
Ford dealers started taking orders for the 2018 F-150 equipped with the new diesel this month. Deliveries are expected to begin this spring. It is available in 4×2 and 4×4 configurations on F-150 Lariat, King Ranch and Platinum edition SuperCrew trucks with either a 5.5-foot or 6.5-foot beds, and SuperCab trucks with a 6.5-foot bed.
The 3-liter Power Stroke will also be available to fleet customers on all F-150 trim levels with SuperCrew 5.5-foot or 6.5-foot bed configurations and SuperCab trucks with a 6.5 foot bed.