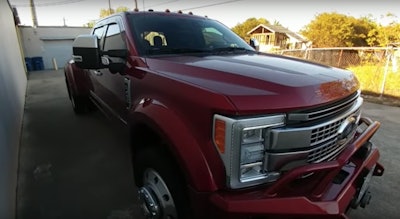 A Ford truck owner has gotten plenty of attention after posting a review of his 2017 F-450 King Ranch.
J.D. is an engineer who started his YouTube channel, Big Truck Big RV, to offer candid feedback on trucks and RVs. And J.D. doesn't hold much back.
"One thing I don't like about the 450 is that it lacks TPMS, or tire pressure monitoring for the tires," J.D. explains at the start of the 12 minute clip, which to date has gotten 55,311 views.
J.D. bought his own TPMS unit, but unfortunately, it will only monitor four of his six tires. He admits it's "a cheapie unit." Just how cheap is unclear. EEZTire sells a six-sensor TPMS for $309 on Amazon, but maybe that was a little too rich for J.D.'s blood?
Another thing that gets under J.D.'s skin is the truck's key reminder feature. Diesel truck owners often leave their trucks running when they make a quick stop. However, as J.D. demonstrates, when he gets out of his truck while it's running and closes the door, the horn will honk twice.
"It's going to honk at you twice like that every time you close the door, and I just find that an absurdly easy feature to just turn off with a switch which Ford unfortunately did not include," he says.
Is J.D. being too particular? Or does he have some legitimate gripes for this big ticket truck which stickers around $73,000? He's gotten comments that mostly support his efforts, while some say he's just too picky.
"Guys, for the most part, I absolutely love this truck. This is the best truck I've ever owned," he says about nine minutes in.
He loves the turning radius. He loves the 19 ½-inch Alcoa wheels. He loves the commercial grade tires. He loves the power of the 6.7-liter Power Stroke turbo diesel. He loves the LED package.
And he probably loves the fact that he now has over 67,000 subscribers who appreciate his candor. Check out J.D.'s video below.