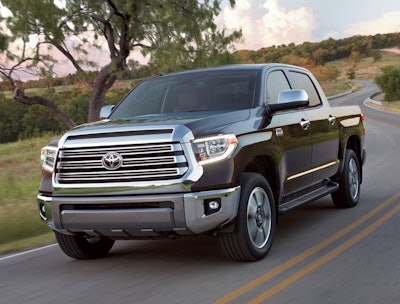 Toyota has more 2017 model year vehicles equipped with automatic emergency braking (AEB) than any other OEM in the U.S. according to the National Highway Traffic Safety Administration (NHTSA).
Toyota equipped 56 percent of its 2017 fleet — 1.4 of 2.5 million vehicles — with AEB. The automaker also made news by becoming the first OEM to make AEB standard on a pickup, in this case the 2018 Tundra.
Ford makes automatic braking optional on its 2018 F-150 through Pre-Collision Assist with Pedestrian Detection and Adaptive Cruise Control with Stop-and-Go.
GM has the second-highest number of 2017 models with AEB — 551,777 of 2.8 million vehicles, representing 20 percent of its 2017 fleet. Honda is third-highest with 492,330 of 1.6 million vehicles with AEB, or 30 percent of its 2017 fleet.
OEMs have been slow to equip their trucks and vans with AEB. In terms of the proportion of vehicles produced with auto brake technology, NHTSA reports that luxury autos in general lead the way.
Tesla included the technology on nearly all 2017 Model S cars and Model X SUVs, either as original equipment or via an over-the-air software update, although the feature was deactivated on some vehicles for part of 2017. Mercedes-Benz equipped 96 percent of its 2017 vehicles with standard AEB. Seventy-three percent of 2017 Audi vehicles have AEB, followed by 68 percent of Volvos and 58 percent of BMWs. Just under half of Subaru's 2017 vehicles have AEB.
Four of 20 automakers report that automatic braking is standard on more than half of their 2017 model year vehicles, NHTSA and IIHS announced in the first update of manufacturer progress toward equipping every new vehicle with the crash avoidance technology. Even without making it standard, another five automakers report that more than 30 percent of vehicles they produced in 2017 were equipped with AEB.
"The growing number of vehicles offering automated emergency braking is good news for America's motorists and passengers," says U.S. Transportation Secretary Elaine L. Chao. "With each model year, manufacturers will increasingly utilize technology to allow vehicles to 'see' the world around them and navigate it more safely."
Twenty automakers pledged to voluntarily equip virtually all new passenger vehicles by September 1, 2022, with a low-speed AEB system that includes forward collision warning (FCW), technology proven to help prevent and mitigate front-to-rear crashes. The commitment is intended to get the technology into a wider swath of the vehicle fleet faster than otherwise possible today.
"IIHS is pleased to see that automakers are steadily moving toward the shared goal of putting standard AEB into every new car they sell," says David Zuby, executive vice president and chief research officer of IIHS. "This is a big win for safety on our nation's roads, which will see fewer crashes and injuries because of this commitment."
By 2025, the commitment will prevent 28,000 crashes and 12,000 injuries, IIHS estimates. Consumer Reports supported the commitment and agreed to assist in monitoring automaker progress.
"This progress is great news for luxury car buyers and many others, but many automakers still need to do more, as Consumer Reports analysis indicates that only 19 percent of 2017 models included these lifesaving technologies as standard features," says David Friedman, director, cars and product policy and analysis at Consumers Union, the policy and mobilization division of Consumer Reports. "Automakers, safety groups and the government should also work together to make highway operation and pedestrian detection standard features on all AEB systems."
Manufacturers recently submitted their first yearly progress report to NHTSA on the AEB status of the 2017 fleet for vehicles manufactured from Sept. 1, 2016, through Aug. 31, 2017, for the U.S. market (Docket ID: NHTSA-2015-0101). The participating automakers include Audi, BMW, Fiat Chrysler, Ford, General Motors, Honda, Hyundai, Jaguar Land Rover, Kia, Maserati, Mazda, Mercedes-Benz, Mitsubishi Motors, Nissan, Porsche, Subaru, Tesla Motors, Toyota, Volkswagen and Volvo. These companies represent more than 99 percent of the U.S. automobile market.