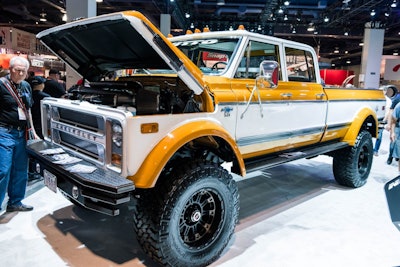 Note: This article was written by Wayne Grayson, online managing editor at HWT's partner publication Equipment World.
As I walked across the central show floor at SEMA earlier this month, I heard something from behind that made me turn around as I stepped into the Chevrolet booth.
"F***ing awesome," said a random guy out of my line of sight. The phrase was said at a volume that indicated not so much someone trying to cause a scene, as it was a man totally impressed with what he was looking at. And when I finally got a glimpse of it too, I kind of understood. And his was far from the last F-bomb I would hear dropped as show attendees flocked to the truck you see above.
What elicited such an explicit reaction was The Duke, a beautifully restored and transformed 1972 Chevrolet C50 built by master welder Randall Robertson of RTech Fabrications in Hayden, Idaho. It's a cool-looking pickup for sure, but there's something about seeing it in person that makes you feel like you need this truck. And beyond the vintage cool factor it has going for it, this is a seriously capable vehicle. After all, RTech's motto is "We build trucks to do Truck Things."
The Duke took nearly three years to build and, as you can see in the video above, started with a single-cab '72 C50 work truck that moved mobile homes in a past life. According to the video below from Nitto Tires' Driving Line, Robertson married that front end to a C20 pickup bed to create this four-door monster that Robertson calls a "K50."
The truck is powered by a 5.9-liter Cummins 6BT pulled from a 1996 Dodge Ram. The engine is paired with a NV4500 manual transmission with a NP205 transfer case. It rides on 20-inch KMC XD829 Hoss 2 wheels wrapped in 40-inch Nitto Trail Grappler (40×15.50 R20) tires. It has 1-ton axles with a Dana 60 front, and a 14-bolt rear.
The interior has style of its own with GM yellow and black "Saddle Highlander" plaid on the seats, doors and other accents. The truck also features a custom built steel dash with all the original gauges.
Check out more photos of the truck from the SEMA show floor below.