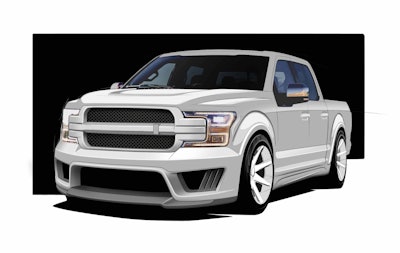 The most popular pickup in the country is getting a lot more power.
Saleen Automotive, which supplied Ford with its Saleen Superchargers for the automaker's Harley Davidson edition F-150, announced that it's offering up to 700 horsepower for the iconic pickup in its 2018 Saleen Sportruck.
Available beginning in November 2017, the 2018 Sportruck will again be based on the popular Ford F-150 platform. Power will be offered in four levels including enhanced EcoBoost turbocharged 2.7 and 3.6-liter engines as well as naturally aspirated and supercharged versions of 5.0-liter V8, the top level achieving a whopping 700 horsepower.
"We are excited to have returned to our heritage with a high performance Saleen Sportruck that fits perfectly within our program for a full line of high performance vehicles carrying the Saleen brand," said Steve Saleen, CEO of Saleen Automotive. "Our truck heritage includes many race wins in our Ranger-version of the Saleen Sportruck followed by the extremely popular Saleen S331 Sportrucks. Ford chose to use Saleen Superchargers on the Harley Davidson F150 editions, which were installed at the Saleen factory in Troy, Michigan. The time is right that we return to the market with a product that feeds an audience of hungry Saleen truck enthusiasts."
The 700-hp Sportruck nudges out the recently announced 650-hp F-150 Lightning SVT Tribute Truck available through Pioneer Ford in Breman, Ga. However, the dealership can offer a 800-plus horsepower variant sans warranty. The Lightning Tribute has an MSRP of $49,661. No word yet on the Sportruck's sticker.
Saleen reports that its Sportruck will be instantly recognizable as a Saleen-exclusive offering. The new bodywork includes a functional air dam, front brake ducting, racing inspired grille and hood with center sculpting.
The rear of the truck will feature Saleen nameplate trim in the center of the tailgate and large rear exhaust tips that tuck neatly into the lower rear valance for a race inspired look.
Racecraft suspension, Saleen signature interior appointments and big brakes are standard. The trucks will be equipped with side skirts and Saleen-exclusive alloy wheels wrapped with high performance General Tires.
Feeling the need for speed? Call Saleen's sales team at 800-888-8945 for more information.