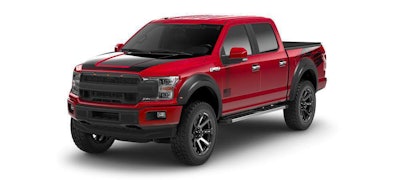 Roush has unveiled its 2018 F-150 in an all-new package that's designed to command attention.
Unique Roush body components, a Fox 2.0 suspension system, Roush side-exhaust system and Roush 20-inch wheels with Thompson Baja ATZP3 all-terrain tires help set this F-150 apart from all the others.
"The 2018 Roush F-150 is mean, bold and loud. This truck stands out from the crowd," said Kevin McLoughlin, Roush vehicle product line manager.
The Roush/Fox 2.0 Performance Series Suspension System raises the front end up to level out the overall height of the truck, providing a more aggressive stance, and the custom suspension has been tuned for improved performance both on and off the road.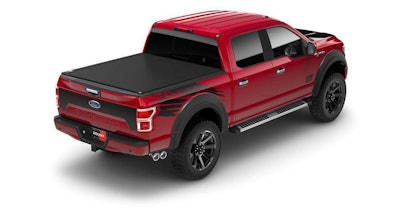 The 2018 Roush F-150 features a front grille with integrated clearance lighting and an aggressively-styled front bumper cover that have been designed and manufactured in-house. Each truck is equipped with fender flares that are unique to the market and fitted with front and rear integrated clearance lights, as well as identifying graphics and badges.
The refreshed 2018 model year builds upon design themes from the 2015-2017 models. The highly-customizable 2018 ROUSH F-150 can be built from virtually any Ford F-150 with countless trim, color and engine combinations.
A graphics package includes a Roush hood graphic, windshield banner, side rocker heritage graphics and a tailgate graphic. There is also an optional bedside off-road-themed graphic available.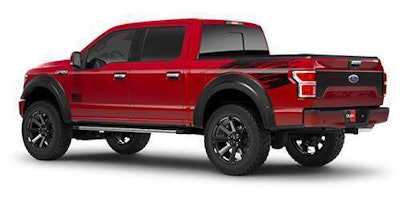 Inside, carpets are protected from mud and debris by Roush molded front and rear floor liners by WeatherTech. A serialized Roush badge documenting the truck's authenticity is affixed to the console.
A Roush owner's manual supplement helps to explain the features of the truck.
The 2018 Roush F-150 package starts at $11,500 and comes with a 3-year, 36,000-mile limited warranty.
A Roushcharged version of the 2018 F-150 is planned for release later this year. The supercharged truck dubbed the Roush Nitemare unleashed 600 horses for model year 2017 and had a zero to 60 time of 4.2 seconds. Roush reported that it's the fastest production truck in the world.