Vehicle thefts in the U.S. have gone up over the last two years with three different pickup brands making this year's Top 10 Hot Wheels list published by the National Insurance Crime Bureau (NICB).
Overall, auto thefts increased roughly seven percent from 707,758 in 2015 to 757,850 in 2016.
"Thefts have gone up over the last two years and the focus on anti-theft technology has sharpened as reports on hacking increase," Roger Morris, NICB vice president and chief communications officer, said in a recent press release video. "NICB's reporting of devices being used to unlock and start vehicles with keyless remote entries and push-button starts has prompted law enforcement to be aware of this new kind of theft which leaves no evidence that a car's been taken, unless it's caught on security video."
Model year 2006 Ford pickups ranked number three, following two Honda sedans, on NICB's Top 10 list for most stolen vehicles of 2016. Though specific models were not listed, NICB reports that of the 32,721 Ford trucks stolen last year, most—or 2,986 of them—were 2006 Ford pickups. Chevy trucks rank as the fourth most stolen vehicle in 2016, while Ram pickups took the seventh spot (see table below).
NICB's Top 10 Hot Wheels list showing the most stolen vehicles in the U.S. during 2016: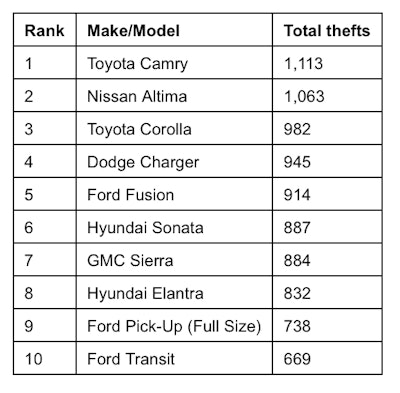 While hacking devices used by thieves to steal vehicles are troubling, Morris said that over 57,000 vehicles were stolen in 2015 because drivers simply left their keys or key FOBs inside those vehicles, making them easy targets for thieves.
"NICB urges to always lock your vehicle and take the key or FOB with you," Morris said.
To help reduce the chances for auto theft, NICB advise following its four layers of protection:
Common Sense: Lock your car and take your keys. It's simple enough, but many thefts occur because owners make it easy for thieves to steal their cars.
Warning Device: Having and using a visible or audible warning device is another item that can ensure that your car remains where you left it.
Immobilizing Device: Generally speaking, if your vehicle can't be started, it can't be stolen. "Kill" switches, fuel cut-offs and smart keys are among the devices that are extremely effective.
Tracking Device: A tracking device emits a signal to the police or to a monitoring station when the vehicle is stolen. Tracking devices are very effective in helping authorities recover stolen vehicles. Some systems employ "telematics," which combine GPS and wireless technologies to allow remote monitoring of a vehicle. If the vehicle is moved, the system will alert the owner and the vehicle can be tracked via computer.