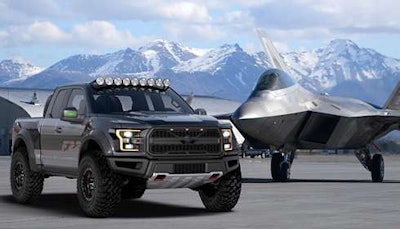 If you know some of Ford's history then you're probably aware that Henry Ford also had a big interest in aircraft and even went so far to help his son, Edsel, build an experimental plane in 1909 six years after the Wright brothers had taken to the skies.
Though Edsel's plane crashed, Henry Ford's interest and appreciation in all things aviation flew on. He started Ford's airplane manufacturing division in 1925 and in that same year opened the $4 million Ford Airport in Detroit. He continued to pursue goals for passenger airliner development and built engines for U.S. planes in both World Wars.
Ford's efforts eventually landed him into the National Aviation Hall of Fame, and the company that bears his name carries his legacy forward with its ongoing support of the Experimental Aircraft Association's youth aviation programs.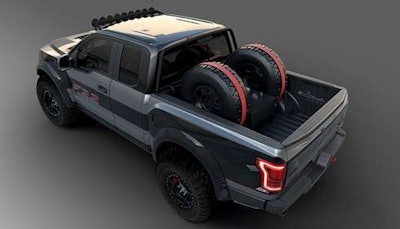 On July 27, EAA will auction a one-of-a-kind F-150 Raptor dubbed the F-22 Raptor. The modification of a 2017 Ford F-150 Raptor was led by Ford design manager Melvin Betancourt with engineering led by the Ford Performance Team. The goal was to strive for a creative connection to the Lockheed F-22 Raptor fighter aircraft while highlighting the unique style, capabilities, and design features of the 2017 F-150 Raptor.
Among the modifications to the truck are a twin-turbo, Whipple intercooled, high-output EcoBoost 3.5-liter engine, along with enhancements to the suspension, wheels, brakes and lighting. This supercharged version is rated at 545 horsepower, or 95 more than stock. The F-150 Raptor also features a purpose-built audio system and interior modifications. It is the latest in a series of Ford specialty vehicles that have to date raised more than $3 million for EAA's youth aviation initiatives.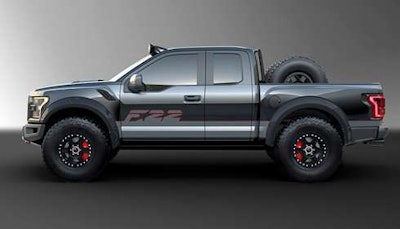 "This F-150 Raptor is a new look at Ford's tradition of building unique vehicles in support of EAA's youth aviation programs," Betancourt said. "We know this truck will create an unmatched buzz around this year's Gathering of Eagles auction."
Attendees at the Gathering of Eagles are eligible to bid on the F-150 Raptor, as are those prequalified to bid by phone during the sale. For more information, contact EAA's development office at (800) 236-1025 or at gathering@eaa.org.
EAA's Gathering of Eagles is held annually at the EAA Aviation Museum, drawing more than 1,000 aviation enthusiasts who support the aviators, engineers, and flight professionals of tomorrow. The event has drawn such personalities as actors Harrison Ford, John Travolta, and Morgan Freeman, sports luminaries Ken Griffey Jr. and Jack Roush, and aviation legends such as astronauts Jim Lovell and Frank Borman.