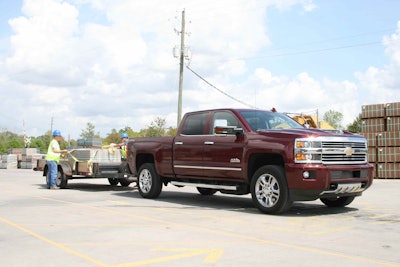 Note: This is part 2 of a two-part review of the 2017 Chevrolet Silverado 2500 High Country 4×4 with the newly redesigned 6.6-liter Duramax turbo diesel. Click here for part 1.
Information and Entertainment
Overall, the information and entertainment systems on the 2017 Chevy Silverado 2500 High Country are very impressive. First up is the OnStar 4G LTE WiFi hotspot.
You may recall last month that Chevy became the first OEM to announce a 4G LTE unlimited prepaid data plan for $20 a month. Clearly, they had families like mine in mind. But would the Silverado's WiFi hotspot survive my kids?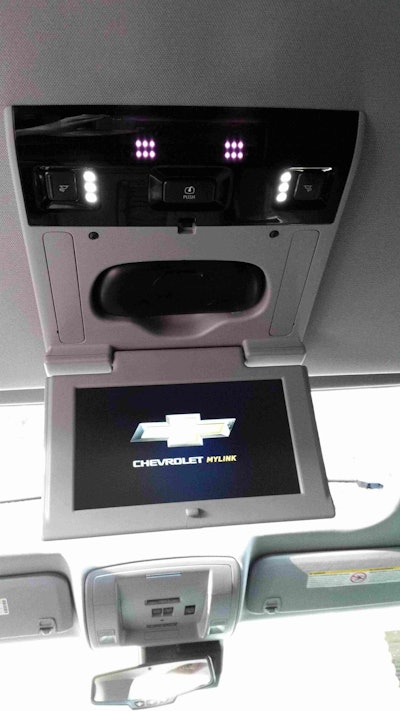 There's probably no better way to test WiFi accessibility than to unleash all four of my kids and their devices in a simultaneous, digital draw-down. Their nimble fingers will access more content faster than most of us can say, "Wha-wha-wha happened?"
Admittedly, I was doubtful that the truck's hotspot would be able to handle my kids. I was wrong—way wrong.
As soon as we hit the road, I told the kids to start streaming video. Naturally, they were more than happy to oblige. But then things got quiet—too quiet. I guess I should have known that their silence said everything I needed to hear. Still, in a manner that strangely recalled that 'ol dreaded road trip question "Are we there yet?," I kept asking how things how things were going. Finally, one of my guinea pigs piped up and said, "It's great, Dad. No problems." Four devices streaming video at once and no problems. Amazing. Now they can watch funny cats, video game clips and someone on YouTube singing 101 bottles of beer.
Next up, I decided to test the range of the signal. Having a mobile hotspot can definitely prove convenient when you're at a job site. In this case, I entered the house and sat down about 150 feet away from the truck. The signal was still showing full strength on my laptop, though web access to YouTube and other sites had slowed down. Video streaming lagged a little at first, but then played well for the duration of a two-minute clip of John Wayne's "Big Jake."
Once I walked back to the truck, web access was back up to speed and as impressive as my home system.
Bluetooth audio certainly proved its worth. While waiting on my youngest son to finish up an appointment, his older brother and I watched a World War II documentary on my laptop. Cinema-like sound of tanks grinding their way through tough terrain played through the Bose audio system. We were both impressed. My son's appointment ended too soon.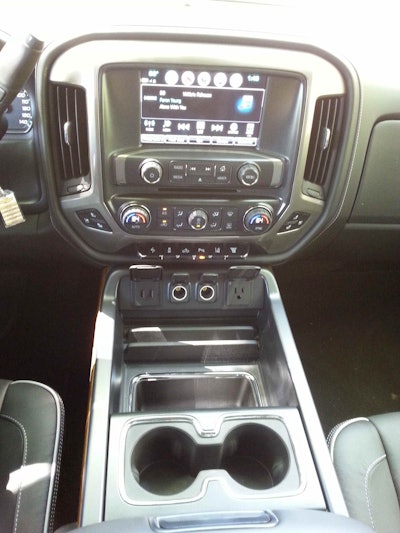 Finding a Bluetooth connection, however, proved to be a little more difficult earlier that day. While driving, I had my 15-year-old son—an accomplished technophile like most 15-year-olds—search for a Bluetooth connection. He was able to easily navigate through the screen to the Bluetooth connection option, but after he touched the button he was met with the disappointing message: Bluetooth system not available while vehicle is in motion, or words to that effect.
Perhaps later, new tech will allow a passenger seat sensor combined with a hand-sensing device perhaps placed on the right-side of the monitor to permit a passenger to input commands and information normally prohibited while driving.
Or, just use a voice command prompt…right? Wrong. As we were driving down the road, I pushed the voice command button on the steering wheel and said "Bluetooth." The screen then popped up with instructions on how to pair up the laptop. Great. But as we continued driving, the instructions suddenly vanished from the screen. I tried bringing the Bluetooth set-up page back up with the voice prompt, but instead it passed along the prior message that the Bluetooth systems page could not be accessed while the vehicle was in motion.
Voice navigation was really impressive. I even tried pronouncing an address two different ways and the system still found it. For instance, it's easier to say 'seventy-six hundred' instead of 'seven, six, zero, zero.' The system excepted either pronunciation.
The voice command feature was really helpful, especially for finding stations on SiriusXM. For instance, if I requested Willie's Road House—which I did a lot—the system would quickly pull it up. However, when I requested genres, like Classic Rock for example, it showed me only one XM station, Classic Vinyl. I thought this was strange since I earlier I had found at least one other classic rock station by flipping through the XM stations on my own.
Voice command would also not properly display genre-related FM stations in our area. It may not seem like a big deal, but I was a little surprised, considering that artists' names and music titles are displayed on the screen no matter if they hail from satellite or FM stations. In all fairness, this is probably the result of a station not transmitting genre data. Some stations are making the transition to the more data-packed HD signal and some are not.
The dropdown Bluray player for the backseat crowd was a hit. Wireless headphones make it their own show. An HDMI input for the screen allows one lucky kid—or a kid who's never grown up—to hook up a video game console. Backseaters get two USB charge ports and one round 12-volt plug located at the back of the center console alongside the HDMI input and a headphone jack for the old school crowd. The rear entertainment system also allows for separate FM, AM and XM station selection. However, it was disappointing to see that a 110-volt plug was nowhere to be found in the back of the cab.
Adventures in towing on I-10
The Silverado had certainly proven itself as a daily commuter and consistently kept up WiFi demands. Now I wanted to find out how it would handle towing on Interstate 10. Granted, we're not talking Ike's Gauntlet in northwest Florida, but nonetheless there are some mild grades and thick traffic that can prove stressful to vehicle and driver alike.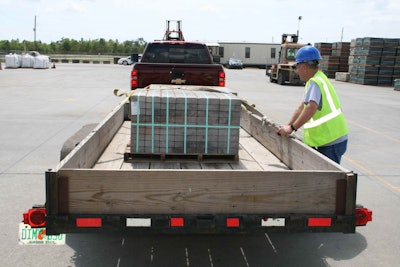 It just so happened that my Dad needed two pallets worth of pavers about 60 miles away at Block USA in Defuniak Springs. We took dad's friend along for the ride. Both of them are seasoned—and I use that word respectfully—pickup drivers who have towed boats, cars and God knows what else through the years.
The adventure started by placing a GM-supplied 2-inch receiver inside the Silverado's 2 ½-inch receiver in the rear. Though Dad was a little concerned that the hitch pin would not be long enough make it through both receivers, it worked out just fine.
Next up came the task of backing up the truck to the 16-foot, dual-axle flatbed. While overall I like the Silverado's back-up camera, it was difficult finding the trailer's black tongue on the info screen. Though the sun was shining brightly around 9 a.m. that morning, we were parked on top of dark leaves in the shade of some large oaks, and the truck's monitor just had a hard time offering up a sharp image of the tongue. Still, on a second attempt, I was able to get the trailer ball right under the tongue.
After hooking up the seven-pin trailer connector, a message popped up on the instrument panel display stating that the trailer had been successfully connected. That was nice. However, it would have been nicer if a follow-up message gave instructions on setting the gain for the trailer's electronic brakes. There was nothing in the manual.
It would have been nice seeing an image of where to make the adjustment–maybe next year. After some hunting around, I found the plus and minus buttons on the far left side of the dash under the small icon of a trailer. Electronic brake gain can be set from 0 to 10. I set it at 6. I also engaged the tow-haul mode which takes some of the strain off the transmission by changing shift points.
After making a light check on the trailer, we were off and running to Defuniak. The first thing I noticed while towing was that I really couldn't notice the trailer. Because the trailer tires had been inflated to 65 psi, we anticipated a bumpy ride on the way over, but that wasn't the case. We were all impressed by the smooth ride.
Getting onto I-10 from State 77 was easy with that truck's powerful 6.6-liter Duramax turbo diesel. Of course the real test would be merging onto the highway during our return trip with all those pavers.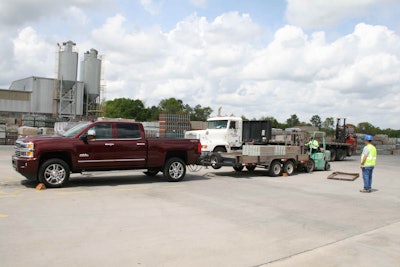 After loading up at Block USA with roughly 6,000 lbs. of pavers (maximum towing is 18,100 lbs.) we decided to test the brakes again before getting back onto the main road. I got the Silverado up to about 30mph and hit the brakes hard. Both truck and trailer came to a quick stop. We all felt more confident about that long ride home.
While it now felt like I was towing something, I never lost confidence in the truck's ability to get up and go. Frankly, it's got plenty of power to spare. Getting onto I-10 was easy. It got up to speed in no time. Despite some minor grades along the way, cruise control kept working flawlessly and made the climb without skipping a beat.
The exhaust brake on the Silverado brought on even more confidence. I actually looked forward to braking. It works that well. When mashing the brake, I always knew there was going to be plenty of room between us and the vehicle ahead. Like I said, it brings on a lot more confidence when towing.
Because the info screen on the instrument panel allows you to monitor transmission temperature, I couldn't help but keep an eye on how hot that six-speed Allison would run in and out of tow haul mode. Keep in mind that it's difficult to accurately test the transmission unless the conditions are the same for each run. Still, I had to conduct an impromptu test. All apologies to GM's very capable engineers.
Without tow haul mode, the transmission got as hot as 183 degrees. With tow haul mode engaged it got down to as low as 165.
Bottom line, towing in the Silverado 2500 was impressive. Chevy has really done their homework in making the job as smooth and safe as possible. Features like Stabilitrack stability control with trailer sway control lend even more confidence.
Safety features
I was pleasantly caught off guard the first time I experienced one of the Silverado's safety features. As I pulled the truck up next to one of our local bays to get some photos, I got close to an old oak—a little too close. The seat vibrated and the info screen on the instrument panel lit up warning me about the tree which was just a few feet in front of the grill. I had discovered Park Assist and it was doing an impressive job of protecting the truck.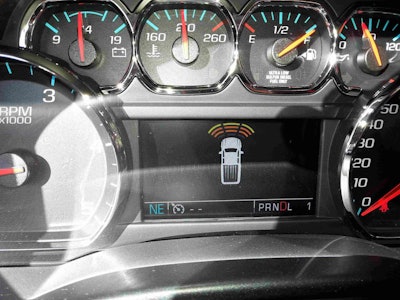 As I edged closer to the tree, more yellow lights illuminated on the display. This got me curious so of course I had to find out just how close I could get to the tree before setting off that final row of lights. Once I got about a foot away from the tree, a band of red lights came on and the seat vibrated five times. Next to a hand dropping down from the visor and slapping you across the face, a vibrating seat is a good attention-getter.
Parking assist can be turned on or off at the touch of button. I kept it on during the entire week that I had the truck because it had quickly proved its worth. Front and rear parking assist along with the rear vision camera work at speeds of less than 5 mph. The sensors will detect objects up to eight feet behind and four feet in front. An object has to be at least 10 inches off the ground to be detected. Humid weather can shorten detection distances.
Another safety feature that surprised me its effective response time was forward collision alert or FCA. While two lane country roads can be scenic, they can also be dangerous. I was traveling on one such road in northwest Florida when the car in front of me slowed down quickly to make a left-hand turn. My seat vibrated and a rectangular red light about three inches long and a ¼-inch wide was projected on the lower, left side of the windshield. It was hard to miss and really reinforced the notion of safety in this truck.
For you tailgaters that can't seem to get anywhere fast, an amber light will flash in place of the red one if you get too close to the vehicle ahead.
FCA works at speeds above 25mph and will detect objects within 197 feet. The owner's manual states: "It does not warn of pedestrians, animals, signs, guardrails, bridges, construction barrels or other objects."
Rear seat detection was another plus. After shutting down the truck, the message would pop up on the screen reminding me that there was either people or cargo riding along in the back of the cab.
Other notes of interest
The Silverado I was loaned came with a standard length bed. I like how Chevy provides plenty of tie-off points in the bed. Built-in steps in the bumper make it easy to step up inside the bed. The spray-on bed liner was so thick that it looked like a drop-in liner that had been baked into place. The tailgate's EZ Lift and Lower feature was appreciated.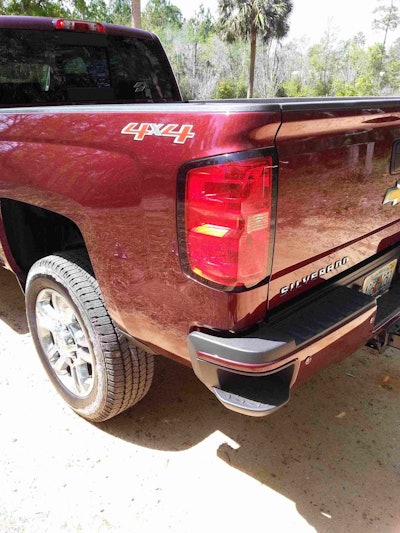 Provisions were made in the back of the bed for a 5th wheel and gooseneck hitch. Plastic caps just had to be removed to access the connection points.
The powered rear center window is a convenient feature, especially if you take Fido along for a ride in the bed.
If you consider average fuel consumption at 15mpg, then the 36-gallon tank will you keep on the road for 540 miles. Not bad. DEF fluid, however, has to be refilled under the hood on the passenger side near the firewall. I like reminders and prefer having DEF access near the main filler neck. When DEF runs low, a reminder will light up on the instrument panel's info screen.
Bottom line, I can't imagine ever running low on power, comfort and safety in the 2017 Chevy Silverado 2500 High Country with the new 6.6-liter Duramax turbo diesel. This truck definitely has capability where it counts.