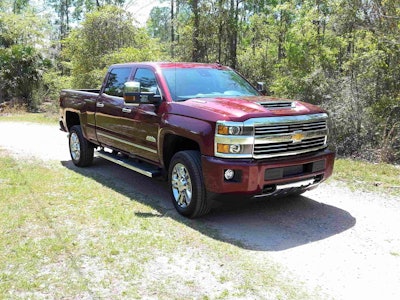 Part 1 takes a look at street performance, the interior and four-wheel-drive. Part 2 on Monday will examine towing, information & entertainment systems, 4G LTE WiFi versus my four kids and safety features.
One thing comes to mind following my week-long test-drive in a 2017 Chevy Silverado 2500 High Country 4×4: power and plenty of it.
The butte red metallic double-cab came equipped with Chevy's redesigned 6.6-liter Duramax turbo diesel which continually impressed in competitive city traffic and on the highway, including cut-throat Interstate 10 where towing was nearly effortless.
The new Duramax delivers 445 horsepower and 19 percent more torque at 910 foot pounds. I first noticed just how much punch this beast packs when turning onto U.S. 98 in Panama City.
As you can imagine getting onto one of the busiest roads in our beach-bound area during spring break can be a bit of a challenge. But the task came easily with Silverado's quick, quiet diesel. A responsive throttle didn't need much convincing to quickly get this 10,000 lb. GVWR truck up to the 45-mph speed limit.
The truck's quickness also came in handy on busy Tallahassee roads where lane changing is a constant and if not exercised in a timely manner can mean missing a turn. That never happened in the Silverado. I confidently kept up and negotiated traffic and felt empowered on roads that often prove frustrating with a frenetic pace.
An Allison 1000 six-speed transmission works well under pressure and quickly transfers power to 20-inch chromed aluminum wheels. However, in-city driving below 50 mph may take some getting used to, depending on your personal preference and pocketbook.
Case in point: I kept hearing the engine run fast and strong on 35 and 45 mph roads. The tachometer was registering roughly 1,800 rpm before the transmission shifted at 48 mph and dropped the tach back to around 1,200 rpm.
Fuel consumption while driving in the city averaged around 12 mpg, according to the truck's calculation which was based on the last 25 miles of driving. In case you're wondering, Chevy allows the mpg average to be figured at different mileage intervals depending on your selection.
A 230-mile round trip from Panama City to Tallahassee left me with an average of 18.5 mpg according to the truck's trip odometer (I reset it before heading out). Some of that trip consisted of city driving, but the majority was carried out on the highway.
The truck's handling and suspension quickly imparts a sense of confidence. I found that out fast while driving on the winding, bumpy roads in my neighborhood.
Interior: Beauty meets brawn
Comfort and style comes together nicely in the interior of the High Country Silverado. Full feature leather appointed bucket seats in the front of this spacious cab can be heated or vented at the touch of a button. Having cool air blow on my back in the Florida heat was a nice relief.
Driver and front passenger seats offer 10-way seat adjuster, including 2-way power lumbar control and two-position driver's seat memory.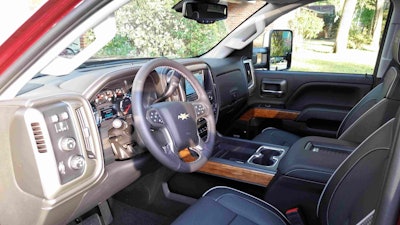 The jet black/medium ash gray interior with wood trim bends towards luxurious, but not pretentious. In short, I like how it still feels like a truck—not a luxury sedan.
Storage is not a problem. The center console accommodates hanging file folders and offers a round 12-volt plug-in along with two USB charge ports. Two more USB charge ports, plus two additional round 12-volt sockets and a 110-volt plug are located at the front of the center console, just below the climate control panel. The lid of this center console came with a charging pad for devices that accept wireless charging. I love that idea. No more plugging in. Just plop it down next to you and it automatically charges up.
A storage cubby just in front of the center console proved to be a great spot for my camera, notepad, pens and God knows what else. It felt like moving day when I had to clean it out for the next guy.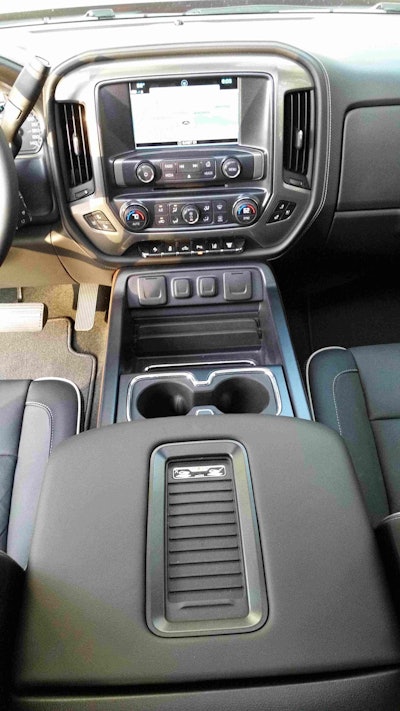 Deep pockets on all four doors provide room for more stuff. My son was able to easily stow his tablet in one of the pockets on the rear door. He quickly found that nook.
The cantilevered rear seats have no brackets or support bars to hinder storage there. My dad accused me of bragging, but was impressed nonetheless. A gun safe immediately came to mind.
The rear seats easily push up and stow out of the way providing ample space for more stuff.
My only complaint here is that the double-cab's rear door does not open to a full 90 degrees to accommodate larger items. Think Christmas and those long bike boxes or a whole host of big boxes, for that matter. (See photos below.)
As with most trucks now, there's no shortage of drink holders in the Silverado: I counted six in the front and four in the rear.
While independent climate control worked well for the front of the cab, my little crew in the back complained every now and then. Considering that the truck I was driving was priced at roughly $71,000, I was surprised to find out that my backseat brigade had no rear air or any climate control options. Still, I found I could solve that problem by cranking up the fan and directing the center vents towards the back.
Four-wheel-drive spares me from embarrassment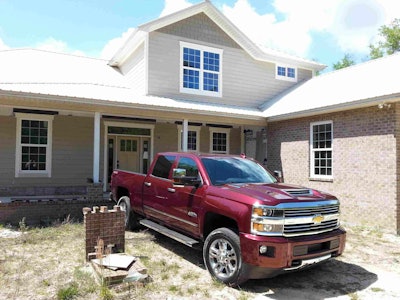 Soft sand is a common problem while off-roading in northwest Florida. Case in point: while attempting to back up to the porch of my new house, the truck stopped moving and began spinning its rear tires.
A wise man once said, "Never put your truck into four-wheel-drive until you need it." Sound advice. The idea is that if you get stuck while in two-wheel drive, you at least still have the option of switching to four-wheel-drive to get out. But if you start in 4×4 and get stuck without a winch or a buddy nearby to pull you out, then you're obviously out of luck and will have to make that embarrassing phone call.
The truck I was given had no winch and no one was around to pull me out. But I did have a four-wheel drive switch. Though it's not required, out of habit I put the truck in neutral first before making the switch to four-wheel-drive high.
After turning the switch, the instrument panel's display lit up and within a few short seconds a message confirmed that I was now in four-wheel-drive. I tried the accelerator again and this time I was moving. No phone call required. Nice.
I drove further down a dirt road to get a better feel for the truck in four-wheel-drive. It handled nicely, even while turning.
Part 2 continues tomorrow: towing, information & entertainment systems, 4G LTE WiFi versus my four kids and safety features.