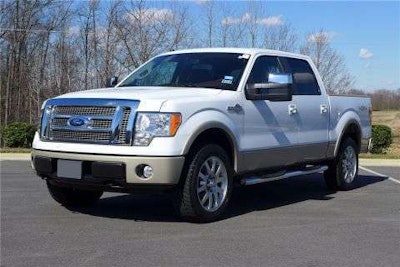 While it doesn't come with its own Secret Service detail and play "Hail to the Chief" each time you open the door, this pickup does come with some rare U.S. history.
Barrett-Jackson announced this week that it will be auctioning former President George W. Bush's 2009 Ford F-150 King Ranch 4×4 Super Crew along with other rare collector vehicles during its 15th Annual Palm Beach Auction, April 6-8 at the South Florida Fairgrounds. This will mark the second time that the presidential pickup has been up for sale at a Barrett-Jackson auction.
The truck (Lot #3004) was used by Bush on his Texas ranch. Both the original title and right airbag panel feature Bush's signature, and the entire hammer price will benefit the Community Foundation of Cleveland and Bradley County, Tennessee.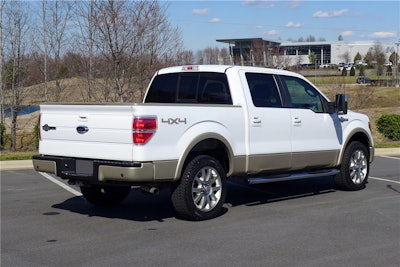 "To date, Barrett-Jackson has helped raise over $93 million in support of charities whose influence reaches around the world," said Craig Jackson, chairman and CEO of Barrett-Jackson. "No other collector car auction company has helped raised more funds for important causes benefiting children, veterans and medical research than Barrett-Jackson. We are honored and astounded by the bidder turnout for our Palm Beach Auction, and are thrilled for the charities who will benefit from the sale of these extraordinary vehicles."
Bush used the truck for work and play at his Prairie Chapel Ranch in Crawford, Texas shortly after leaving the White House in 2009. Powered by a 310-hp 5.4-liter V8, the pickup carted around Bush, former First Lady Laura Bush, friends, family and dignitaries visiting their Crawford property.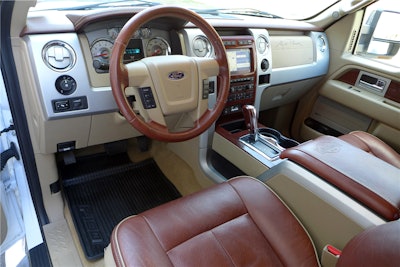 The Tuscan tan interior features adobe King Ranch premium leather.
The original title to the truck bears Bush's signature as its first owner and will be transferred to the buyer by the current owner.
Bush's F-150 first went up for auction in 2013 at a Barrett-Jackson charity event in Scottsdale, Az. Comedian Jay Leno led bidders along as the pickup eventually hit a hammer price of $300,000.
The winning bidder of Lot #3002 will receive the rights to the FIRST retail production of the 2018 Chevrolet Camaro ZL1 LE, with 100 percent of the hammer proceeds benefiting United Way. The ZL1 LE features a 650-horsepower, supercharged LT4 engine backed by a 6-speed manual transmission, rounding out an incredible performance package.
Built by the next generation of auto specialists, Lot #3001, a '96 Ford Mustang, was designed and fabricated by students at the Jordan Vocational High School in Columbus, Georgia. Winner of the national 2016 Quaker State Best in Class Competition, the vehicle is powered by a 3.8-liter engine with automatic transmission and features a new suspension and more. Proceeds will go to Jordan Vocational High School.
The sixth of only 50 built by Sanderson Ford, a '07 Ford Mustang GT Custom Fastback (Lot #3003) showcases meticulous craftsmanship that shines throughout every vehicle detail, including custom body panels, tribute signature seats and carbon-fiber trim. The sale of this remarkable beauty will benefit The Darrell Gwynn Chapter of the Buoniconti Fund to Cure Paralysis.
Sporting only 58,000 original miles, Lot #3000, a '69 International Travelall, will cross the block in support of the Boy Scouts of America. Unique in the market and ahead of its time, this Travelall is powered by the optional V8 engine.
The 15th Annual Barrett-Jackson Palm Beach Auction will be broadcast on Discovery, Velocity and Velocity Canada during the three-day auction. For specific television schedules, please click here. For more information on becoming a bidder, follow the link to https://www.Barrett-Jackson.com/Bidder/Home. To consign a vehicle for the 2017 Palm Beach Auction, click here.