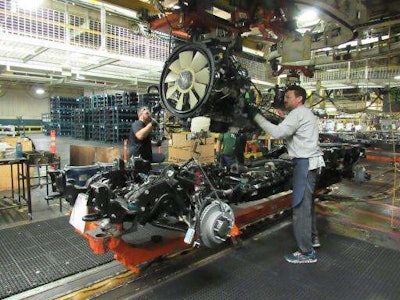 General Motors on Friday marked a milestone for its flagship Duramax engine, celebrating the 2 millionth 6.6 liter V-8 turbo-diesel engine to roll off the assembly line since July 17, 2000.
Employees at the DMAX, Ltd. plant in Moraine, Ohio are currently building the redesigned Duramax 6.6L V-8 turbo-diesel, which offers more horsepower and torque — an SAE-certified 445 horsepower at 2,800 rpm and 910 lb-ft of torque (1,234 Nm) at 1,600 rpm. Along with a 19 percent increase in max torque over the last 6.6 Duramax, the redesigned turbo-diesel's performance is quieter and smoother and it is also capable of running on B20 biodiesel, a fuel composed of 20 percent biodiesel and 80 percent conventional diesel.
DMAX, Ltd. was established in 1998 with GM holding 60 percent ownership and Isuzu owning 40 percent.
"When we started this project, who would have expected we would achieve 2 million engines," DMAX, Ltd. president, Chief Executive Officer and Chief Operating Officer Shinichi Suzuki says. "The most important thing is not that the 2 million engines have been manufactured, but that they have been sold by the effort of the entire team."
Quote from GMNA Manufacturing and Labor Relations Vice President Cathy Clegg thanked the employees for their with GM Plant Manager Pat Curtis adding, "Over the past 17 years, DMAX has produced 2 million award-winning heavy-duty diesel engines. This is not only a significant milestone, but truly speaks to the dedication of our team.