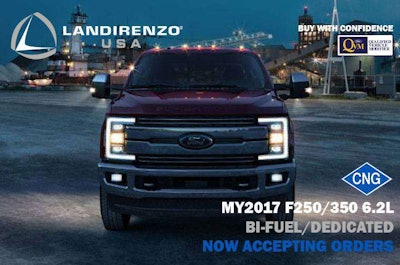 The EPA has awarded Landi Renzo with certifications for its gas bi-fuel and dedicated compressed natural gas (CNG) 2017 Ford F-250/350 6.2-liter engine with gaseous prep engine package. Pre-orders are now being accepted for those trucks.
"Continuing with a tradition of quality products available from Landi Renzo USA, our 6.2L bi-fuel & dedicated CNG systems have been developed by some of the world's leading alternative fuel engineers and is available exclusively through Landi Renzo USA's distribution network," a Landi Renzo representative states in a press release.
Landi Renzo is a Ford Qualified Vehicle Modifier (QVM). Ford maintains the warranty on the base vehicle, while fuel system modifications are warranted by Landi Renzo. With system components designed, developed and integrated in collaboration with OEM's, the level of quality meets or exceeds OEM standards.
The Landi Renzo Group reports that it sells over one million alternative fuel system annually.