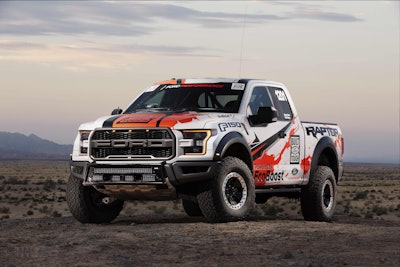 After finishing the grueling 49th SCORE Baja 1000 off-road race recently in Mexico, the 2017 Ford F-150 Raptor was simply driven home to Arizona—no trailer required.
The Raptor, captained by Greg Foutz and the team from Foutz Motorsports, competed against four other trucks in the stock full class, and following a third place finish, was driven back to Foutz' shop near Phoenix.
"That's why the new Ford F-150 Raptor is bad-ass! It's a race-proven off-road monster that can race off-road an entire weekend, then take you and your friends on a road trip the next day," Foutz said. "That and the $49,520 starting price make it a clear winner on the showroom floor."
The Raptor finished the race in 35 hours, 59 minutes and 8 seconds. First place in the stock full class went to Off-road Motorsports Hall of Famer Rod Hall. Hall, 79, drove a Hummer H1 and finished in 32:13:58. Second place went to Marc Van Tassell who was driving a Toyota Land Cruiser and finished in 32:28:37. Two Dodge W250s in the stock full class did not finish the roughly 850-mile course which is filled with rocks, sand, potholes and endless clouds of dust.
The Raptor ran with all the creature comforts, such as factory air, satellite radio and a windshield—something that most race vehicles run without. The truck's new 3.5-liter EcoBoost V6 and 10-speed transmission kept BFGoodrich All-Terrain KO2 tires hard at work.
Foutz Motorsports only added a Chromalloy steel safety cage, puncture-resistant fuel cell, racing seats and full race harness to meet SCORE rules. The factory-spec Raptor springs and Fox Racing shocks were adjusted for the added weight of the safety cage and fuel cell.
The new six-mode Terrain Management System and advanced four-wheel-drive torque-on-demand transfer case were put to the test.
"We used the Raptor Terrain Management System to select Baja Mode and just tweaked two-wheel versus four-wheel drive depending on the terrain we were on," Foutz said. "When we hit the road for home, we dropped it in the Sport Mode and took off for the highway."
Ford Performance engineers used the Raptor race truck program as a platform to share technology and prove out their trucks in the real world.
"We're completely thrilled at how well the all-new F-150 Raptor performed throughout the Baja 1000 race as it's one of the most brutal environments you can ever compete in," Hameedi said. "Having race-proven, real-world performance experience and data to validate further solidifies Ford's truck leadership position and Raptor as a the ultimate from-the-factory high performance off-road truck."