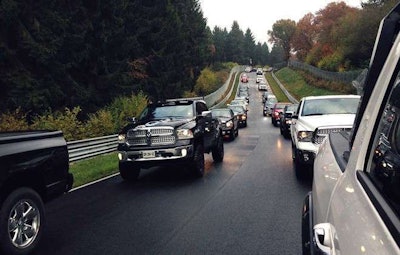 Sometimes you have those moments in traffic when you look around and notice that there are more pickups around you than cars.
If you think that's a good thing like us, then you'll appreciate this recent truck parade in Europe.
Folks at the Nürburgring motorsports complex in Nurburg, Germany got together last week and set a Guinness World Record for the largest parade of trucks.
Parade participants from AutoGlobalTrade AG of Switzerland and AUTEC of Germany drove 1,152 trucks on the winding two-lane road.
Special thanks to Ram Truck Communications Manager Nick Cappa for telling HWT about the record. And who can blame him? All the trucks were Rams. Cappa said Ram did not sponsor the event making it even more tempting to think that they might be humming that old Wayne Newton song "Danke Schoen" right about now.