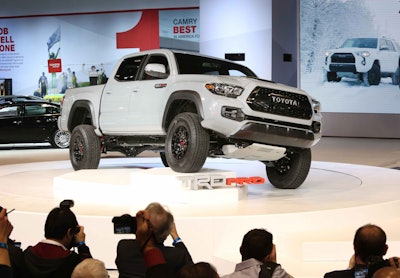 Ford may sell more pickups than any other OEM, but Toyota is tops in brand loyalty, according to Edmunds.com.
The popular auto media and shopping network reported that 74 percent of the trucks traded-in for the first nine months of 2016 went toward the purchase of another truck.
The next highest loyalty rates were vans at 52 percent and compact SUVs at 47.3 percent. This year's truck loyalty rate is higher than at any other time since Edmunds started tracking trade-ins in 2005.
"Truck owners are especially passionate about their vehicles, most likely because trucks offer hauling and cargo capabilities that you just cannot find in any other vehicle segment," says Edmunds.com Senior Analyst Ivan Drury. "Today's trucks are particularly appealing because manufacturers pack them with more luxury and technology features than ever before. These options just weren't available on trucks in years past. It also doesn't hurt that today's low gas prices make truck ownership much more economical than just a few years ago."
A deeper look at truck trade-in loyalists found that Toyota owners are the most faithful to their brand. About 70 percent of owners who have traded in their Toyota pickups for another truck this year opted for another Toyota pickup.
That figure is just barely above the 69.5 percent trade-in loyalty rate for Chevy truck owners. Third place goes to Ram owners at 68.1 percent.
Toyota's strong loyalty is mostly owed to its popular midsize Toyota Tacoma. Edmunds estimates that nearly 75 percent of Tacoma trade-ins this year have gone toward the purchase of another Tacoma.
Overall, truck popularity is at its highest level in the U.S. in nearly a decade. Trucks have accounted for 15.1 percent of all new sales this year through September, the highest share since 2007 (17 percent).
The light truck market continues to grow despite the fact that the average price of $43,277 in 2016 represents a 46 percent climb from the average sticker in 2006. By comparison, industry-wide average transaction prices ($33,728 in 2016) are up just 23 percent over the same period.