Ford revealed four F-150 pickups that are all dressed up and going to SEMA next month.
With F-Series trucks nailing SEMA's "Hottest Truck" Award for four consecutive years, one of these trucks may be taking home this year's award. Specs for each truck is posted below its image.
First up is the EraThr3 by Hulst Customs. A Whipple supercharger cranks the Ford 5.0-liter V8 all the way up to 750 horsepower.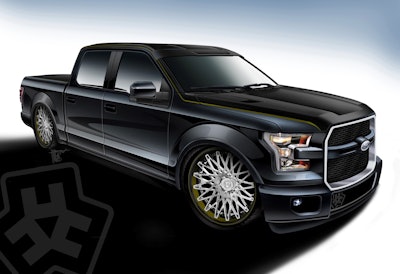 Base Vehicle
2016 Ford F-150 SuperCrew
0L V8 engine
6-Speed electronic automatic transmission
Modifications
Powertrain
Whipple supercharger
CGS Performance cat-back exhaust
Custom dual exhaust tips
Chassis
Air Suspension by Hulst Customs, with Aire Jax Four Play manual valves
Hulst Customs rear custom 4-link suspension
Hulst Customs front custom brackets
Wheels & Tires
Lexani "Monza" (front 26"x10", rear 26"x11") wheels
Lexani (front 295/30-26, rear 305/30-26) tires
Exterior
Striker Trucks Performance Products, by Hulst Customs

Bumper cover, grill, hood extractor vents, carbon splitter, lower side rockers, rear bumper, fender badges, drop visor

Southern Polyurethanes Inc. paint
Wyatt's Automotive paint supplies
Custom bed details
Interior
Katzkin Automotive Leather custom Zkintech series interior
Ford Licensed Accessories:

Console Vault vehicle safe
Kicker subwoofer
Lumen tablet headrest cradles
EraThr3 Lifestyle design theme details
Next up is the Bojix version of a 2016 Ford F-150 XLT 4×4 SuperCrew. Nardo Grey paint with Bojix Orange accents are illuminated by 30-, 40- and 50-inch Radius light bars. Though Ford did not provide horsepower numbers, it's safe to say that this truck has plenty of power thanks to a Full Race intake system and twin Borg Warner EFR turbo upgrades on a 3.5-liter EcoBoost engine.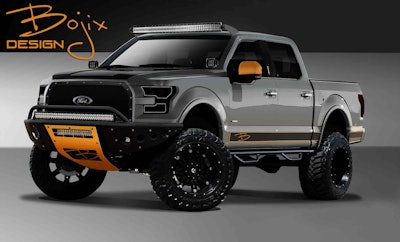 Base Vehicle
2016 Ford F-150 XLT 4×4 SuperCrew
5L V6 EcoBoost engine
6-speed electronic automatic transmission
Modifications
Powertrain
Full Race intake system, exhaust muffler, inter-cooler & catch can
Borg Warner twin EFR turbo upgrades
Chassis
Brembo GT brake system front and rear
Ready Lift 7″ lift kit
Fox Racing coilover shocks
G2 Axle and Gear rear axle cover, front and rear differential gears
Wheels & Tires
Grid Off-Road GF-2 Forged (22"x12") wheels in double dark tint
Nitto M/T (37"x12.50"x 22") tires
Exterior
AMP Research XL motorized steps
PPG paint materials, body in Nardo Grey, accents in Bojix Orange "BORANGE"
Paramount Restyling – Front grill, smooth fender flares
Rigid Industries 30", 40" & 50" Radius light bars & dually reverse lights
Raptor Retrofit headlamp harnesses
Decked bed storage system with sliding drawers
Airdesign USA tailgate applique
Addictive Desert Designs

Venom R front bumper
Honeybadger rear bumper
Cab light mounts

Ford Licensed Accessories

Bedrug bed liner
Undercover tonneau cover
Cab LED work light
Dee Zee bed ramps
PUTCO rocker panels with custom Bojix paint
Interior
Katzkin Tuscany leather in Havana tone
Kicker audio Powerstage system
Brandmotion Accessories:

Freedom chargers-wireless phone charging system
Loft lite LED lighting system
360-degree vision system

Ford Licensed Accessories:

Lumen tablet headrest cradles
Console Vault vehicle safe
INVISION independent dual headrest DVDs and monitors
Putco stainless sill plates
This next SEMA head-turner is A.R.E. Accessories' 2016 Gold Standard Ford F-150 Project Truck. A custom paint job complements the A.R.E. CX Series cap which features a TopperEZLift system that protects technology like TV's, a storage system and charging station located in the bed of the truck.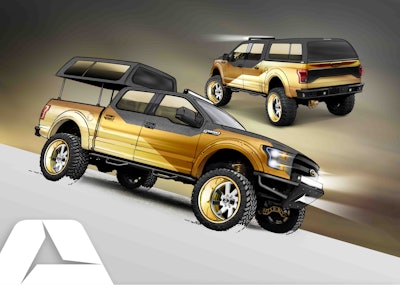 Base Vehicle
2016 Ford F-150 4×4 XLT SuperCab
5L V6 EcoBoost engine
6-speed electronic automatic transmission
Modifications
Powertrain
Chassis
Skyjacker suspension
Air Lift Load Lifter
Wheels & Tires
Fuel Forged custom (24" x 12") wheels
Fuel MT Gripper tires
Exterior
Trent's Trick Upholstery:

Exterior vehicle execution
Custom TV and storage stand
Custom grille

R.E. CX Series truck cap
Axalta custom paint mix
Paint by Lynch Customs
TopperEZLift 12V cap lift system
N-FAB steps and bumpers
Hamsar LED lighting
Reikken performance battery cells
Bully Dog performance tuner
Reflexxion hood
Redline Lumtronix bed lighting
Lizard Skin spray-on insulation
Ford Licensed Accessories fender flares by Bushwacker
Ford Licensed Accessories wheel well liners by Penda
Interior
Trent's Trick Upholstery custom interior accents
Alea leather
Ford Licensed Accessories audio upgrade by Kicker Audio
Ford Licensed Accessories stainless sill plates by Putco
The BMX-themed F-150 Lariat SuperCrew from CGS Performance is equipped with action sports accessories and gear including Ssquared Bicycles bike frames, Answer BMX bicycle parts and GoPro action cameras that can capture all the finish-line action.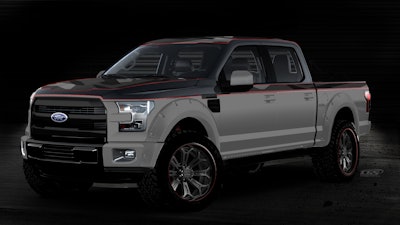 Base Vehicle
2016 Ford F-150 4×4 Lariat SuperCrew
0L V8 engine
6-speed electronic automatic transmission
Modifications
Powertrain
CGS Performance 3" stainless cat-back exhaust system
Whipple supercharger
Whipple 132mm throttle body
Ford Performance custom painted coil covers
Chassis
FabTech's 6" performance suspension system with dirt logic
Fastway hitch receiver
Husky's fender liners
Wheels & Tires
Grid Off-Road (20"x 10") wheels
General (37"x 13.5"x 20") tires
Exterior
Paint by Flying Iron Design
Rigid LED lighting
Retrax power roll tonneau
AMP Research power steps
Raptor Retrofit headlights
Airdesign USA hood scoop & tailgate applique
InDesign Motorsports vehicle execution
Cerakote ceramic paint applied to exhaust
Interior
Alea Leather's custom leather kit
Ford Licensed Accessories:

Kicker subwoofer INVISION independent dual headrest DVDs and monitors
Putco sill plates
Action Sports
Ssquared Bicycles bike frames
Answer BMX bicycle parts
ANSR Racing: helmets, apparel & gear bags
GoPro action cameras
Kicker Bluetooth headphones & speakers