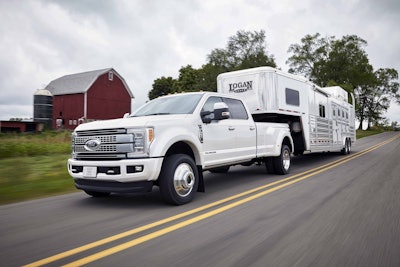 Ford's adaptive steering for its 2017 Super Duty trucks makes low-speed turning easier.
The system – all contained in the steering wheel itself – has an electric motor, a small computer and a gear unit. Based on driver input and vehicle speed, adaptive steering can add or subtract rotations to driver input at the steering wheel. Up to one full revolution can be saved at low speeds when steering lock-to-lock.
Hard Working Trucks had a chance to drive a 2017 Ford F-250 with adaptive steering and compare it to other trucks without the system. Adaptive steering clearly required less effort at turning the wheel while taking on a serpentine course that Ford had set up in Denver.
At low speeds, the system increases the angle of the front wheels as the steering wheel is turned – resulting in the driver needing to steer less to maneuver, according to Lodewijk Wijffels, Ford adaptive steering technical specialist.
"At high speeds, the ratio is changed in such a way that vehicle response is more relaxed, more precise, and smoother than without the system," Wijffels explained.
The truck features a specific setting for engaging tow/haul mode that further optimizes how Super Duty and trailer react to steering input.
Adaptive steering made its debut on the 2016 Ford Edge Sport, which has driver-selectable normal and sport settings.