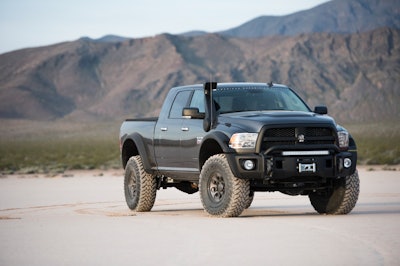 American Expedition Vehicles (AEV) recently unveiled its Prospector XL, an off-road conversion based on the Ram 2500/3500 pickup.
While the Prospector XL shares many of the same components as the original Prospector, it features additional upgrades which AEV says makes for its most adventure-ready truck to date.
"With its heavy-duty stamped steel front bumper, aggressively wide stance and massive 40-inch tires, the Prospector XL is designed for overland adventure travelers and recreational explorers who require a full-size truck that is extremely capable off-road, has the ability to tow heavy loads and still maintains exceptional driving characteristics on the road," an AEV representative said.
New for the Prospector XL is AEV's HighMark Fender Flares, which open up the front and rear wheel wells, allowing for 40-inch-tall tires with only 3 inches of suspension lift, resulting in increased ground clearance and a low center of gravity for optimized on-road handling.
AEV also installs a heavy-duty hydraulic assist steering kit, which not only reduces the amount of driver steering effort needed to turn those massive tires but also reduces the amount of stress on the vehicle's steering box.
AEV's popular DualSport Suspension System increases wheel travel for improved off-road capability and optimizes the suspension and steering geometry for better handling and reduced driver fatigue on the road. AEV-tuned Bilstein 5100 series shock absorbers are designed to provide exceptional ride quality over a wide variety of terrain.
The Prospector XL features massive 40-inch-tall Toyo Open County M/T tires mounted on AEV's iconic Katla wheels. This combination is designed to provide maximum traction in any off-road environment, while still providing a smooth, comfortable ride on the highway.
AEV's Heat Reduction Hood features two strategically placed vents in the hood that work in both static and dynamic situations to reduce underhood temperatures while channeling water away from sensitive electronics.
The Prospector XL is also designed to shield itself against an abusive off-road environment.
"Superior front-end protection is an absolute necessity for anyone traveling long distances to remote locations," an AEV representative said. "Every component of the AEV Prospector XL's Front Bumper is designed to provide a superior level of protection while also safely accommodating up to a 16,500-pound winch to assist with vehicle recovery."
"The massive ductile-iron tow loops are rated to pass all OE load specifications and double as wear plates when sliding over steep obstacles."
Options
The Prospector XL comes with a variety of options and upgrades. The AEV Raised Air Intake is designed to provide the engine with the coldest and cleanest air charge possible, maximizing engine performance and increasing longevity. The AEV Raised Air Intake is available in two air inlet configurations: a traditional Air Ram or a High Efficiency Dust Filtration System.
The WARN 16.5ti winch features a series-wound motor combined with a 3-stage planetary gear train that delivers 16,500 pounds of pulling power. This is Warn's highest-capacity, most technologically advanced winch, designed specifically for heavy-duty trucks.
Various auxiliary lighting configurations are available to suit individual travel requirements.
AEV's heavy-duty differential covers are manufactured in the U.S. out of high-strength nodular iron.
The interior of the Prospector XL is available with two different leather packages.
Every AEV Prospector XL is serial-numbered and adorned with exclusive AEV badging to signify that it was hand-built by highly skilled technicians in Wixom, Mich. With former Chrysler engineers on staff, AEV is able to offer the Prospector XL with a 3-year/36,000-mile warranty based on their experience with OE testing/validation.
Prospector XL packages start at $17,354. Please visit aev-conversions.com, contact the AEV Vehicle Sales team at (248) 926-0256 or any AEV Certified Vehicle Dealerships across the country for more information.