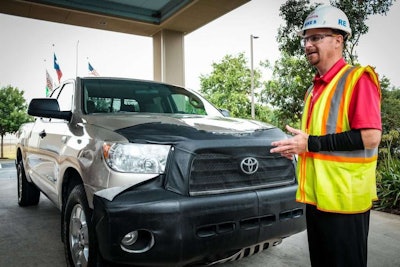 Mike Sweers is a self-described truck guy. He has a ranch, drives a truck each and every day and has very clear ideas on what he wants personally in a pickup. He also happens to be the chief engineer of the Toyota Tacoma and Tundra, and as such he is in charge of the image, direction and style of those pickups.
During a visit recently to Toyota's San Antonio plant where an estimated 260,000 Tacomas and Tundras will be built this year, Sweers described the years-long process of bringing a new pickup to market. It involves a lot of research, a lot of drawings and a lot of figuring out just how many great truck ideas are actually feasible from a manufacturing standpoint.
Suffice it to say when Sweers has an opportunity to learn how to make his trucks better, he grabs hold of it. And earlier this year he grabbed hold of a big one: a Tundra that has not only topped 1 million miles, but has done so with no major problems and is still roadworthy.
"I said, 'I want that truck,'" Sweers recalled. "We are going to tear this truck apart."
Victor Sheppard works in the oil industry, setting out from his home in Houma, La., to make emergency deliveries as far off as California, Maine and North Dakota.
Since buying the truck in May 2007, Sheppard put an overage of 125,000 miles on it per year. And while he made sure to make every one of his scheduled maintenance appointments, he didn't baby this truck. It's been battered with equipment and heavy loads.
The only real problem Sheppard ever had with the truck was when the reverse went out at around 776,000 miles. Once that was fixed the only other problem he had was the odometer ceasing to work once he hit 999,999 miles.
Once Sweers heard about Sheppard's Tundra, he reached out and offered a trade: a brand new 2016 Tundra so Toyota could bring the old pickup back to its San Antonio birthplace and learn its secrets. Sweers said it took some convincing due to to Sheppard's love for a pickup he calls "The Beast," but he finally agreed.
"The engine and transmission are really cool because they've never been replaced. It also has the original radiator," says Speers, adding that there haven't been any spring changes either. This was especially surprising considering the the rough shape of most oil roads and the fact that Sheppard told Speers that the truck has "been overloaded a few times."
Sweers says the truck will be torn down in order to study each of the critical components in the hopes of replicating this particular Tundra's resiliency on a much larger scale.
– by Wayne Grayson