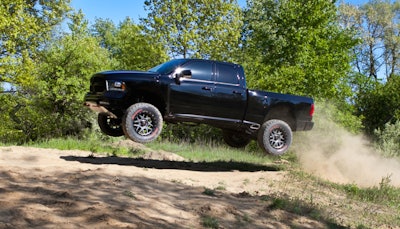 You're probably more familiar with Prefix's work than you realize—from space and aircraft props in major Hollywood films like Transformers and Batman v Superman to headline grabbing prototype vehicles and those head-turning paint jobs on the Dodge Viper, the Michigan-based company remains active and interested in taking on new challenges.
One of its latest ventures is the Minotaur—a modified Ram 1500 that has been charging hard for the lucrative off-road segment, which includes hard-nosed contenders like the Ford F-150 Raptor.
Hard Working Trucks first reported on the Minotaur back in October. We caught up with the company today to see how their pickup is faring. (Pictures posted below seem to hint that things are going just fine.)
While response in the U.S. has been going well, Prefix Marketing Director Jhan Dolphin says the demand overseas has proven to be a real surprise.
"Right now we are finalizing a very interesting opportunity where we will be sending many trucks overseas," Dolphin explains.
Prefix's connections with Barrett-Jackson opened up opportunities to markets in Asia and Europe. The world famous auction house also provided a ride and drive event during their 45th anniversary celebration in January in Scottsdale, Ariz., which provided ample opportunities to introduce Minotaur and put it through some tough paces on an off-road jump course. Plenty of people went for a ride—3,000 of them actually.
"That was a great event because that—even for the people on our team—just gave us all the confidence in the world with what we're doing with this truck," Dolphin says.
One Minotaur with a 5.7-liter HEMI made nearly 1,500 jumps over the course of the four-day event. Okay, it had a little help, thanks to a KORE Tactical Series suspension which includes custom designed FOX 3-inch internal bypass racing shocks. That bypass reservoir came in handy by keeping those hard working shocks cool.
"People couldn't believe that we were doing this all with one truck. That was great," Dolphin says. "It was an opportunity for us to beat the living daylights out of the truck. It was a beast. It gave us a lot of confidence."
That confidence probably comes a little easier knowing that the truck borrows from Prefix's experience in helping to develop off-road race trucks for grueling venues like the Baja 1000.
However, those unfamiliar with Minotaur and its Baja roots are prone to jumping to conclusions.
"The one thing that's probably the hardest thing for us is getting people to understand that this is not a truck with a lift kit. It's a completely engineered suspension," Dolphin explains.
"It's all about high speed stability and the 14 inches of travel and the way that it handles, whether you're at speed on the highway, or in the desert, or over the rocks."
After testing the Minotaur at Baja and realizing that the right time had arrived for marketing, Prefix began approaching Dodge Ram dealerships.
"We've done a very grass roots marketing tour where we drive up unannounced up to a dealer–drive it up to the front window," Dolphin says. "Some of them get it, and some of them don't have a clue."
About two dozen or so Ram dealers now offer the Minotaur package, with more coming. Model years 2013-2016 Ram 1500 pickups can undergo conversion.
Prefix's Dodge connections are strong. The company hand paints Dodge Vipers, one of few OEM vehicles that avoids robotic painting in favor of the more laborious, but lustrous hand finish. The company also produces the Dodge Viper Medusa, a convertible option on the 5th generation Viper that's no longer available through the factory.
Minotaur customers can also choose from the roughly 8,000 body colors that are available to Viper owners. A Viper side pipe is also an option.
Other features include: custom grille, wide-body fenders, custom bumpers with LED fog lights, race red tow hooks and front aluminum skid plate, speedometer recalibration, tire sensor recalibration, logo floor mats and dash plaque and 17- or 20-inch aluminum wheels and 35-inch all terrain tires. A 475-hp 6.4-liter HEMI is also available.
Prefix, no stranger to innovation, has kept a close eye on its competition, namely the Ford F-150 Raptor.
"It's very much a pre-runner style truck and I guess that would be the closest thing that the Minotaur would be described as," Dolphin says. "Naturally, people tend to do that, which is why when we built the Minotaur we weren't just going to match what the Raptor had. We went with bigger shocks. We went with longer travel in the suspension.
"We did things that were a step above of what they offer on the Raptor, because, why wouldn't we? When you're going to start off from scratch, why not one-up your competition the best way you can?"