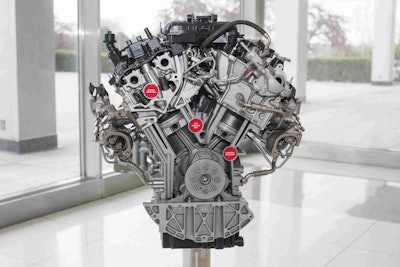 Ford's much-anticipated second-generation 3.5 liter EcoBoost engine got a 50 lb.-ft. peak torque improvement compared with the first-generation models, Ford announced Monday.
The new engine, which goes on sale with the 2017 model year F-150 later this fall, features a segment-best 470 lb.-ft., topping all diesel and gas engines – including V8s with nearly twice the displacement of the EcoBoost V6.
The engine's final torque numbers are also higher than the 450 lb.-ft. Ford estimated in May.
The torque improvement, according to Raj Nair, Ford executive vice president, product development, and chief technical officer, comes from Ford's new 10-speed automatic transmission "that improves nearly every aspect of F-150 performance," he adds.
Horsepower jumps 10 ponies from the previous version, to 375 hp – another unexpected bonus. Ford previously expected the horsepower rating to remain the same from the first generation 3.5 EcoBoost.
The new engine, Ford says, provides better low-end and peak engine performance for hauling heavy payloads and towing heavy trailers.