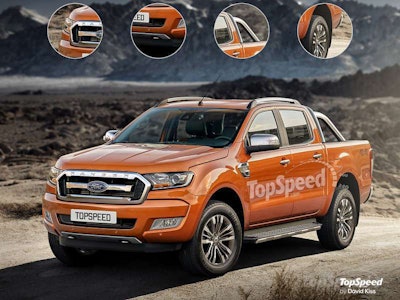 With news of a U.S. return of the Ford Ranger, our friends at topspeed.com have come up with some ideas detailing what consumers might find when the one-time mid-size champ returns to showroom floors.
A U.S. version of Ranger, which some say will reemerge for model year 2018, will probably bear some resemblance to its global sibling.
"Like the Chevrolet Colorado's transition from a global to U.S. truck, Ford will likely borrow heavily from the existing Ranger, while updating key areas like its crashworthiness, in-dash technology, and powertrain," Top Speed reports in a recent article.
"These changes, like those Chevy made on the Colorado, will ensure the Ranger's success in the U.S."
Regarding body design, Top Speed says Ford would do well to offer Ranger in extended, crew and regular cab configurations. Since no other midsize trucks sold in the U.S. currently offer a regular cab, Ford could very well capitalize on that segment.
To help further its no-frills appeal, Top Speed recommends that a base XL trim be made available for fleets that don't necessarily need a full-size truck.
"Again, this is where the regular cab option would dominate, stealing sales away from the Chevy Colorado, GMC Canyon, Toyota Tacoma, and upcoming Nissan Frontier," Top Speed notes.
Under the hood, Top Speed envisions the following engine options: 3.2-liter inline five-cylinder turbodiesel, 2.7-liter EcoBoost V-6 or a 2.3-liter EcoBoost I-4. A six-speed automatic and six-speed manual transmission might be best to compete with GM, Toyota and Nissan, all of which offer a manual transmission with their mid-size trucks.
Top Speed's rendering of a future Ranger, shown above, makes it look like a serious competitor. What do you think?