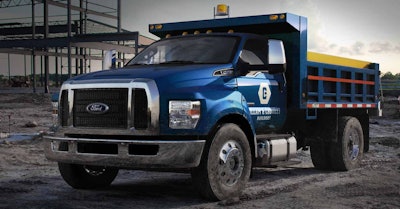 Starting this summer, the new Ford Telematics Maintenance Connect by Telogis will be available for all existing and new Ford Telematics customers.
Telogis reports that the vehicle monitoring program features real-time actionable data and preventive maintenance information that will reduce fuel and maintenance costs.
Vehicle performance data collected by the Ford Telematics system is shared with any Ford Service Center in the U.S. and Canada via Maintenance Connect.
At the Ford Fleet Preview event this week in Dearborn, Mich., Ford and Telogis reported that the factory-fit telematics system is an industry first that will allow commercial customers to share their vehicle's performance and diagnostic data with the Ford dealer of their choice.
Referring to a Frost & Sullivan analysis, Telogis reports on its website that Ford Telematics provides some impressive reductions in fleet costs, including: a 25 percent reduction in fuel costs; a 30 percent reduction in idle time; a 10 percent drop in daily mileage; a 20 percent increase in fleet utilization; a 15 percent increase in workforce productivity; and a 15 percent reduction in overtime.
Ford Telematics is available today in the U.S. and Canada for model year 2009 or newer, or on select models of the following Ford vehicles:
F-Series trucks
Super Duty trucks model year 2008 and later
F-650 and F-750
Transit, model year 2015 and later
Transit Connect, model year 2010 and later
E-Series vans
Passenger vehicles and SUVs including the Focus, Fusion, Taurus, Escape and Explorer
Interceptor sedan and utility models, the leading law enforcement vehicle in the U.S., with Ford Telematics powered by Telogis Law Enforcement Edition.