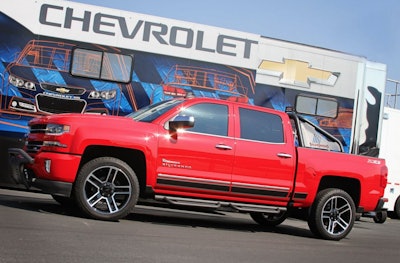 Dale Earnhardt Jr. race fans now have a chance to own a Dale Jr. No. 88 Special Edition Chevrolet Silverado.
Hendricks Motorsports and Earnhardt teamed up to create a truck that recalls the NASCAR champion's personal journey with his favorite GM trucks.
"I had a lot of fun working on this with Hendrick Motorsports," Earnhardt said in a Hendricks press release. "I've always owned Chevy trucks, and for me, tricking them out is a large part of the fun of owning one."
Available on 1500 Crew Cab Short Bed models, the special edition features premium GM accessories including a signature sport bar with LED off-road lights, nudge bar and custom off-road step bars, along with black Chevy bowtie emblems and aggressively designed five-spoke wheels that are wrapped by all-terrain tires.
Additional horsepower on the Dale Jr. No. 88 Special Edition Silverado comes courtesy of a specially designed Borla exhaust system highlighted by performance tips.
To connect NASCAR fans with Earnhardt's on-track styling, custom Earnhardt No. 88 badges are featured along with a 3D tilted graphic that adorns the package's unique black tailgate decal.
"I enjoy customizing vehicles and putting the right pieces together to create a unique look, and I'm really proud of how this one turned out," Earnhardt said. "I hope the fans love it as much as I do."
The Dale Jr. Silverado draws inspiration from Earnhardt's longtime connection with GM trucks, including a customized Silverado dubbed "Big Red" which he completed with Chevrolet ten years ago.
Another inspirational truck for Earnhardt includes the customized two-toned brown GMC K20 made popular on the hit 1980s TV show, "The Fall Guy." Earnhardt watched the show as a boy and, like so many other fans, dreamed about one day owning the truck.
Earnhardt's first truck was a Chevy S10, which he drove back and forth from his home in Mooresville, North Carolina, while working as a service technician at a local Chevrolet dealership.
The Dale Jr. No. 88 Special Edition Chevrolet Silverado is available at local participating Chevrolet dealers. GM has not published a press release on the truck. Photos and information are courtesy of Hendricks Motorsports and various Twitter posts.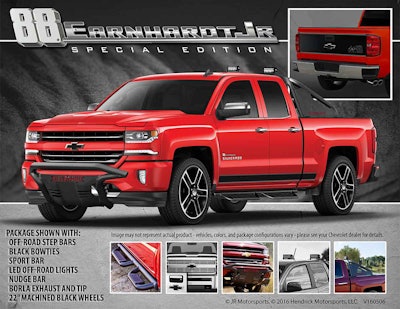 NEWS: Introducing the @DaleJr No. 88 Special Edition Silverado.

Info on the #DaleJrTruck: https://t.co/bwYIYJ4aYs pic.twitter.com/XeqNFLmBRq

— Hendrick Motorsports (@TeamHendrick) June 2, 2016
@chevrolet is set to release the special edition Dale Earnhardt Jr. Silverado! Read all about it right here! #Jeep https://t.co/BOAMBPp7GZ

— Reedman-Toll Chevy (@RTChevy) June 3, 2016
A new project I worked on with @HendrickAuto. What do you think? #DaleJrTruckhttps://t.co/02xJKOYEG2 pic.twitter.com/WEdEzFFiJe

— Dale Earnhardt Jr. (@DaleJr) June 2, 2016
Check out the @DaleJr Special Edition Truck! #DaleJrTruck https://t.co/s8jW0L5gl4 pic.twitter.com/JtDY8R3PnT

— Hendrick Automotive (@HendrickAuto) June 2, 2016