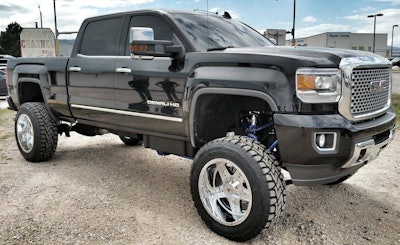 The Velocity Channel reports that its launching the country's first four-wheel-drive reality TV show Saturday morning.
"The Lifted Life," shot on location at Five R Trucks in Golden, Colo., focuses on custom 4×4 builds from start to finish and all the drama in between, according to The Denver Post.
One of the regular challenges? Waiting on parts, of course.
Five R Trucks longtime owner and president, Steve Hill, said he originally turned down Velocity's offer for a reality TV show because, as he told the Post, "reality shows are fake, most of 'em are scripted."
Eventually, an agreement was reached and to date six episodes have been shot at the 34-year-old business. Cast and crew say that the show is one of the most realistic reality TV shows they've seen.
The first episode premiers today on Velocity at 9 a.m. CST. Hill, his sons and his 85-year-old father all work at the shop and will also be on the show—for the most part. The elder Hill said he's already learned to "hide" when the cameras come around.
Steve Hill, 59, reports that Five R Trucks brings in about $10 million annually building custom trucks that typically range from $70,000 to $90,000. The trucks are sold around the world.
Five R Trucks modifies various makes, including Ford, Chevrolet, GMC, Dodge, Toyota, Nissan and Jeep.
"For over 30 years we have been creating not only trucks that have been featured on countless magazine covers, but also durable work trucks that serve as the most important tool in the toolbox," reads an excerpt about the company at liftedlife.tv.
"We pride ourselves in our expertise surrounding suspensions, engines and transmissions, wheels, tires and brakes, and of course accessions such as lighting, bumpers, and interiors. 5R Truck offers the best brands available including Fuel, American Force and BMF, and we are obsessed in delivering exceptional quality in every modification."
Below are some of the builds from Five R Trucks.