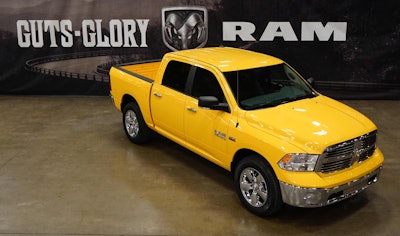 Ram truck today unveiled its Yellow Rose of Texas edition, a new, Texas-only addition to its half-ton lineup.
The 2016 Ram 1500 Yellow Rose of Texas edition, which is distinguished by its Stinger Yellow paint package, will be offered in half-ton 4×2 and 4×4 crew cab versions of the Ram 1500 Lone Star.
Ram Lone Star models are exclusive to the Texas retail sales market.
"Texas is truck country—Ram Truck country—and we're committed to building products that resonate with our customers," says Mike Manley, Head of Ram Brand, FCA Global.
"The importance of the Texas truck market cannot be overstated. That's why the Ram Truck brand has worked year after year to deliver hard-working trucks that serve the communities across the Lone Star state."
The new Ram 1500 Yellow Rose of Texas will go on sale next month.
The Yellow Rose of Texas name is derived from a mid-19th century American folk song later popularized in the 1955 Billboard Number One hit by artist Mitch Miller.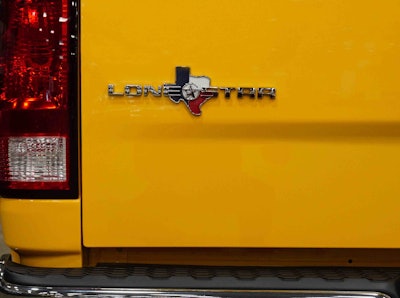 No stranger to the bustling Texas truck market, in 2015 Ram unveiled a Texas Ranger concept truck in honor of the state's storied law enforcement group.
Ram Truck reports that in 2002 it became the first OEM to recognize the strength of the pickup truck market in Texas by offering an exclusive edition for the state. The Ram Lone Star edition was the first pickup truck designed by Texans and built specifically for Texans.
The Ram Lone Star edition is by far the brand's best-selling model in Texas, accounting for nearly 40 percent of the half-ton mix. Since the Lone Star's debut, Ram has sold more than 230,000 of the Texas-only models.
Ram introduced the Ram Laramie Longhorn edition to State Fair of Texas audiences in September 2010. It was the most luxurious truck ever produced by the company. The Laramie Longhorn is layered with southwestern design iconography.
Ram states that it's the fastest growing truck brand in Texas. Its share is up 2.52 points over the last five years. The 2016 Ram 1500 Rebel was named Fullsize Truck of Texas by the Texas Auto Writers Association.