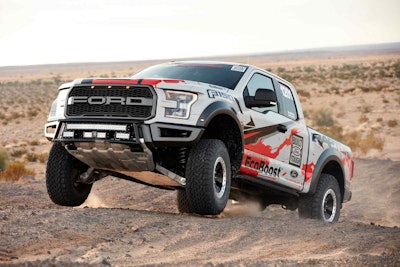 Ford's new 2017 F-150 Raptor has undergone some big changes from last year which the automaker is hoping will help it dominate the new factory stock class of the 2016 Best in the Desert off-road racing series.
The first race starts this Thursday in Parker, Az. and ends Sunday. The Raptor will be running its new 3.5-liter EcoBoost engine paired up with a 10-speed transmission, along with a torque-on-demand transfer case.
"The all-new Raptor has the DNA of a Baja race truck, with a purpose-built engine, chassis and suspension that enables it to travel fast over challenging desert landscapes or crawl over rocky terrain," says Jamal Hameedi, chief engineer, Ford Performance.
The fully boxed frame of the all-new Raptor – the backbone of the truck – features more high-strength steel than the outgoing Raptor.
F-150 Raptor is six inches wider than standard F-150 for improved stability off-road.
The all-new race truck leverages the features of the production Raptor. Torsen front differential boosts off-road capability by increasing front-end grip and allowing the truck to pull itself over obstacles and up steep grades, even when traction is split between the front tires.
Raptor's first-ever dual exhaust and new Ford Performance 17-inch beadlock-capable wheels are wrapped with next-generation BFGoodrich All-Terrain KO2 tires.
"This is the most stock truck I've ever seen in my time building Ford race trucks," says Greg Foutz, owner of Foutz Motorsports, Ford's truck builder and primary race truck driver.
"Without custom technology or other modifications, this all-new Raptor is ready to prove the toughness and performance in the Best in the Desert series."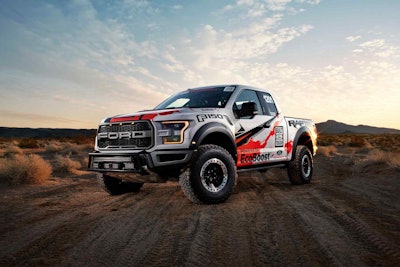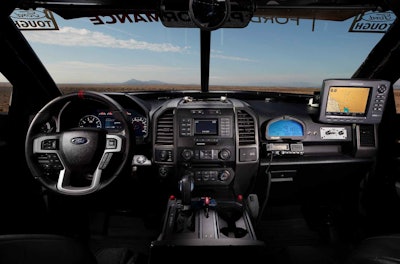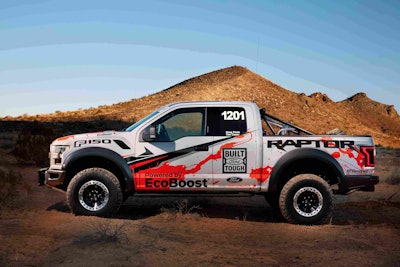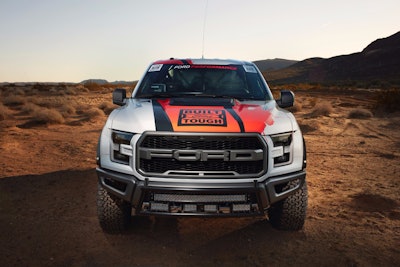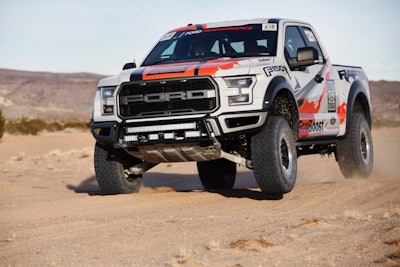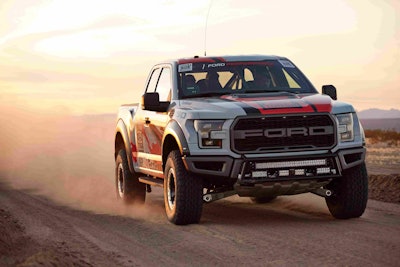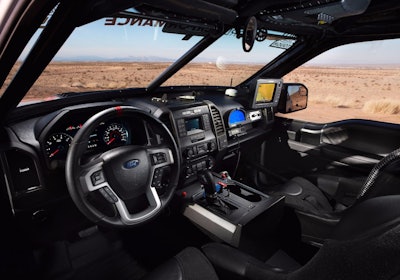 Modifications to the F-150 Raptor race truck include: three-inch-diameter external-bypass front and rear Fox Racing Shox similar to Raptor's segment-exclusive internal-bypass Fox Racing Shox; front and rear springs raise ride height to gain additional ground clearance and provide increased compression rate to handle extreme terrain; a custom-fabricated roll cage; MasterCraft seats with five-point harness safety belts and window nets; LED light bars, racing fuel cell, Lowrance GPS, and RacePak digital dash and data logger.
The new factory stock class is the most production-specification class in the history of Best in the Desert. Joining Foutz in the truck is Tim Casey, both of whom are multiple stock full-class desert racing champions.
"The technology and innovation built into this truck should help it surpass the competition," Foutz says.
Ford's second-generation, high-output 3.5-liter EcoBoost engine has got more power than Raptor's outgoing 6.2-liter V8 which delivered 411 horsepower and 434 lb.-ft of torque.
A new transfer case, which manages power distribution between the front and rear wheels, combines the attributes of clutch-driven, on-demand all-wheel drive with mechanical-locking four-wheel drive to send power to the wheels in slippery conditions.
Off-road driving mode technology has evolved into an all-new Terrain Management System that enables the driver to select modes to optimize driving dynamics to environmental conditions. Six preset modes help the truck power through different terrain and conditions: normal mode for everyday driving; street mode for higher-performance, on-road driving; weather mode for rain, snow or ice; mud and sand mode for muddy, sandy trails and terrain; Baja mode for high-speed desert running; and rock mode for low-speed rock crawling.
Dates and locations for other F-150 Raptor racing events this year: Mint 400, Las Vegas, March 10-14; Laughlin Desert Classic, Laughlin, Nevada, May 5; Vegas to Reno, Nevada, Aug. 17-20; Bluewater Challenge, Parker, Arizona, Sept. 10-Oct. 6; and Pahrump Nugget 250, Pahrump, Nevada, Dec. 1-4.