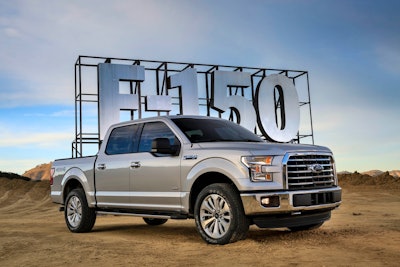 Ford says it will make its Auto Start-Stop feature standard on all EcoBoost engines beginning with the 2017 model year Ford F-150.
Auto Start-Stop is already standard on the 2016 models with the 2.7-liter EcoBoost, but the feature will be added as standard equipment for all 3.5-liter EcoBoost engines going forward, including the all-new high-output version for F-150 Raptor for 2017.
"EcoBoost already powers F-150's best-in-class towing," says Doug Scott, Ford truck group marketing manager. "Now, with every EcoBoost-equipped F-150 mildly electrified with standard Auto Start-Stop technology, customers' fuel efficiency is expected to improve as well."
At the rate EcoBoost is growing, fuel-saving Auto Start-Stop could represent more than 60 percent of the truck lineup – giving F-150 the highest number of Ford nameplates offering standard Auto Start-Stop technology, the company says.
Auto Start-Stop, which Ford says is "specially tuned for truck customers," shuts off the engine when the vehicle is at a stop except when towing or in four-wheel-drive mode. When the brake is released, the engine restarts quickly.