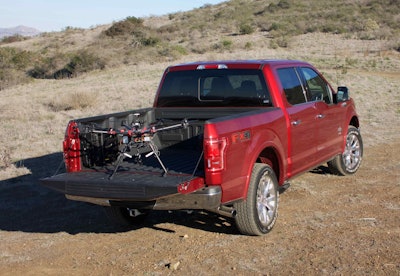 Ford is issuing a challenge that could take drones from a Christmas present for the uber techno-savvy to viable means of aid in global disasters.
Working with DJI, a professional-grade drone systems and software developer, Ford has invited innovators to participate in the DJI Developer Challenge to create drone-to-vehicle communications using Ford Sync AppLink or OpenXC. Developers are tasked with creating software that would allow an F-150 and a drone to communicate in real time. The goal is to develop a surveying system for the United Nations Development Program to inspect emergency zones otherwise inaccessible vehicles.
"Working with DJI and the United Nations, there is an opportunity to make a big difference with vehicles and drones working together for a common good," says Ken Washington, Ford vice president, Research and Advanced Engineering.
The technology could allow U.N. first responders to quickly deploy drones enabling them to survey and map hardest-hit areas – all from the cab of an F-150. In a disaster, ideally, an emergency response team would drive an F-150 as far as possible into an emergency zone caused by an earthquake or tsunami, for example.
Using the Ford Sync 3 touch screen, the driver could identify a target area and launch a drone by accessing an app through Ford Sync AppLink. The drone would follow a flight path over the zone, capturing video and creating a map of survivors with associated close-up pictures of each, Ford says.
Using the driver's smartphone, the F-150 would establish a real-time link between the drone, the truck and the cloud, allowing vehicle data to be shared. Data will be relayed to the drone so the driver can continue to a new destination, and the drone will catch up and dock with the truck.
The challenge winner receives $100,000.