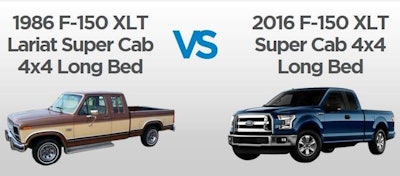 A lot can change in 30 years. And if you're America's best selling pickup for every year in that time span, very few of those changes go unnoticed.
According to a comparison created by BlueSpringsFordParts.com, the 2016 F-150 has nearly double the horsepower and 50 percent more torque than the 1986 model. The current generation gets about 30 percent better fuel economy despite being hundreds of pounds heavier than the older model.
But all that innovation doesn't come without a cost.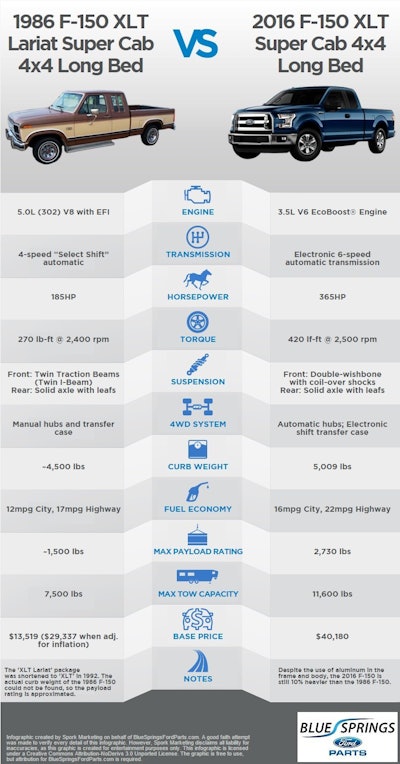 "… it would be great if Ford could find a way to bring the cost of the 2016 model down to the 1986 price point," says Kyle Harris of BlueSpringsFordParts.com, noting that, adjusted for inflation, the 2016 F-150 is nearly 30 percent more expensive than the 1986 model. "As nice as the new truck is, I think a lot of F-150 buyers would gladly sacrifice some features for a lower price."
Among other notable changes to F-150 in the last 30 years are:
• In 1986, Ford offered an "XLT Lariat" package before renaming it "XLT" in 1992. A Lariat package was added in 1997 above the XLT package.
• Model year 1986 featured a manual transfer case with manual hubs (automatic hubs were optional), meaning truck owners had to get out of the cab to engage four-wheel-drive.
• "The new EcoBoost V6 is a pretty big deal," Harris adds. "The old Ford V8s from the 80s had good torque, but they just couldn't handle big loads at highway speed. The EcoBoost V6 does great with towing and hauling, even at highway speeds."