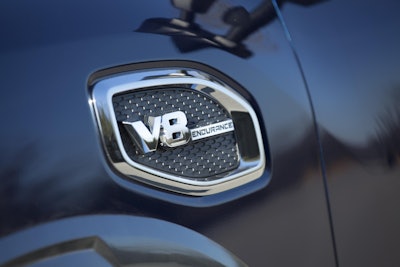 Nissan will offer an updated 5.6-liter V8 gasoline engine the all-new Titan and Titan XD full-size pickup trucks, the company announced Tuesday.
The new Endurance V8 shares its displacement with the previous-generation V8 installed in Titan, but the 2016 version gets a boost in horsepower and torque.
The new generation engine, which will be assembled in Decherd, Tenn., features 390 horsepower (up from 317) and 401 lb-ft of torque (up from 385), along with Nissan's advanced VVEL (Variable Valve Event & Lift) technology, which combines hydraulic-controlled variable valve timing and electronically controlled variable valve lift on the intake and exhaust sides to provide high performance and crisp response.
Rich Miller, chief product specialist, Titan, Nissan North America, Inc., says throttle response is enhanced by directly controlling the intake valve, rather than using the traditional method of controlling intake with a throttle valve, and valve timing and opening with non-variable camshafts.
The gasoline engine will be offered along side Cummins' 5-liter V8 Turbo Diesel when the pickup goes on sale in early spring 2016. TITAN XD models equipped with the Endurance V8 engine will be outfitted with a new 7-speed automatic, which features Adaptive Shift Control and Downshift Rev Matching.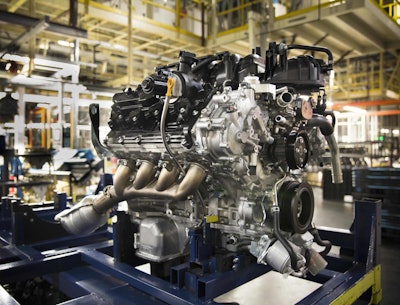 The new 5.6-liter Endurance V8 engine also features Direct Injection Gas (DIG) technology, which Nissan says provides better wide-open throttle performance and improved fuel economy and emissions performance (versus a non-direct-injection system) by reducing engine knock, improving combustion stability and offering precise injection control. An 11.2:1 compression ratio is provided by a new piston design, aiding overall engine efficiency and performance (previous Titan: 9.8:1) and a Multi Control Valve (MCV) assists in managing the engine's thermal efficiency better than a traditional thermostat.