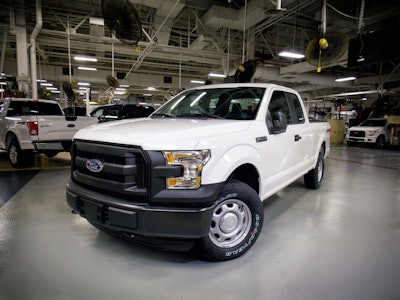 More than 1,100 F-150s roll off the line at the company's Kansas City Assembly Plant every day but, Wednesday morning, one plain, white, four-wheel-drive Super Crew unit held special distinction as the company's first CNG capable F-150.
Equipped with a 5 liter Ti-VCT V8 engine, the 2016 Ford F-150 has a range of 750 miles on combined tanks of gasoline and CNG (depending on tank size) and has an EPA-estimated rating of 22 mpg on the highway and 18 mpg combined.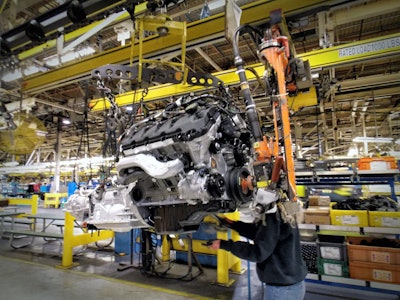 Ford is the only manufacturer to offer a CNG/propane-capable half-ton pickup. The company also offers the dual fuel set up in its heavier and commercial line up – F-250, F-350, F-550, F-650, F-750, F-53 and F-59 stripped chassis, Transit Connect, Transit and E-Series.
The CNG F-150 is available with a factory-installed, gaseous-fuel prep package that includes hardened valves, valve seats, pistons and piston rings so it can operate on natural gas, propane or gasoline through separate fuel systems.
Sam Schembari, product communications manager for Ford, says the company sold more than 2,100 F-150s in 2014 with the gaseous fuel prepped V6 engine, almost twice Ford's forecast.
"We expect to sell even more new F-150s with the gaseous fuel option now that it is mated to the 5-liter V8," he says, "which has a more wide ranging capability that our fleet customers want."