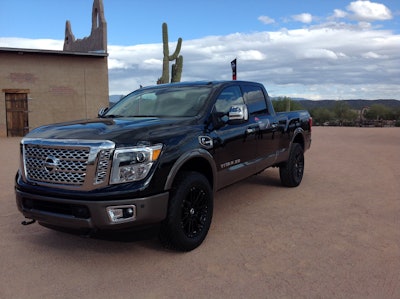 During Nissan's recent presentation of its 2016 Titan XD, an engineer revealed a chart that was pretty telling: truck sales for the automaker are low—very low compared to industry stalwarts like Chevy, Ford and Ram. In fact, Nissan was at the bottom of the list, below Toyota.
To get a bigger piece of the market, Nissan developed a very competitive truck—so competitive that with a beefy Cummins diesel engine, larger frame, increased cooling capacity, over 2,000 pounds of payload capacity and over 12,000 pounds towing, it's really gone beyond a 1/2-ton truck into a 5/8-ton beast.
It's what their engineers, most of whom have been with the truck since its debut in 2003, call whitespace—an area more or less that is unknown, unexplored, unconquered.
In other words, it takes some guts to go there. It takes innovative thinking and a willingness to keep reaching out for more ideas, more power, more comfort.
Based on research, which included customer focus groups, Nissan believes they have tapped a market niche that will respond. Texas sure did. Last month, the Titan XD won the prestigious 2015 Truck of Texas award.
But that was Texas, and this was Arizona, where a mass of reporters that seemed to rival a Whitehouse press conference had converged this past week to carefully look over the new kid on the block.
First Impression
Inside the Four Seasons Resort in Scottsdale, Az., the Titan XD stood under the spotlights with a group of Nissan engineers and PR staff standing close by eager to show and tell. And really, the truck could have done most of the talking.
Beyond heated and cooled leather seats, Rockford Fosgate audio, 120-volt power, a lift assist tail gate and a jackpot of cup holders, the most impressive part of Nissan's flagship truck is its engine.
For the first time, Nissan paired up with highly respected diesel engine builder, Cummins—and they delivered big-time.
Clearly, the heart of this niche truck, and what warrants its XD title and provides all that extra power that pushes it beyond a ½ ton class, is the 5.0 liter, turbo charged, 310 hp diesel that, while quiet, is big on performance. When paired up with an Aisin 6-speed transmission, it delivers an impressive 555 foot pounds of torque, which is roughly 180 foot pounds more than a typical ½ ton truck.
It's hard to forget a number like that, especially when you're towing a 9,000 pound trailer up a six percent grade, which was on one of several challenges reporters put the truck through during the two-day test drive this past week.
As its name suggests, Titan XD was designed after muscle mythology. The grille of the truck is bold, chiseled and hints at an armor-wearing gladiator prepped for battle. The prominent lines of the truck's body complement this warrior theme.
"Titans are these immortal giants with super human strength and endurance, which is perfect for a truck," said Randy Rodriguez, Nissan's project lead designer who crafted Titan XD's body.
The truck's bed features a sprayed-in bed liner which comes standard. To improve towing performance, and greater stability that reduces swaying, a quick-fit gooseneck ball can be inserted in the truck bed right above the rear axle.
Nissan incorporated a nice touch by equipping the gate with an anti-slam mechanism that prevents the gate from dropping down suddenly. Conversely, the gate will easily lift back up into place. This comes in handy when you've got one hand to spare.
The truck's bed also has a clever LED lighting system that will illuminate the entire bed when the sun starts setting. Nissan opted to keep the convenient 120-volt receptacle in their latest bed too.
Optional tool boxes fit conveniently on either side of the bed. Each one comes with a drain plug, just in case they need to be used as ice chests.
Nissan's patented Utili-Track comes standard. These twin rails offer a clever way to quickly secure cargo.
Nissan's director of product planning, Rich Miller, said that he's utilized the rails in his truck for his hunting dogs. He said the rails allow him to easily slide the kennel in and out. The rails also come with interlocking twist-down clamps which quickly secure cargo anywhere it's needed throughout the 6.5 foot long bed.
The crew cab interior is spacious. A large center console is versatile and easily accommodates another cup holder. By doing away with the dash-mounted shift knob and opting for a column shifter instead, engineers said they were able to allow for a larger center console.
Of course, there are 12-volt USB ports and a 120-volt plug-in in the rear of the cab. Lift up the back seat to find a fold-out platform which extends forward over the transmission hump on the floor and provides a large, flat surface for more loading. The platform even provides several holes for attaching cargo cords.
Tow n' go
After being accustomed to glow plugs that have to yawn and stretch prior to ignition, Cummins' ceramic glow plugs were a welcomed addition. Just after settling in the seat, with the key FOB sitting nearby in one of the center console's storage compartments, all it took was one touch of the button and it fired right up. No waiting.
Under the engine's quiet, steady purr, it was easy to talk with two others in the cab. Hydraulic dampeners, an innovate engine design and plenty of insulation bring a nice hush to this impressive power-plant.
Miller said that at one point the engine had become a little too quiet. After all, a diesel's growl, besides its increased torque and fuel efficiency, has won over countless drivers. Hearing and feeling a diesel engine builds a better connection with drivers, which created a tough challenge for engineers.
"We dampened it out to the point that you almost couldn't hear it and then people were still like, 'Well, we still want to hear the diesel. We bought the diesel. We want to hear it," explained Miller. "So, we added some back, but we're still one of the quietest in the segment by far."
The column shifter was a bit hard to get used to at first. But then again, I'm accustomed to the shifter on my Ford.
Once the truck was underway, it was smooth sailing. One reporter told Miller that the steering wheel lacked some of the vibration that most diesels exert. However, he wisely pointed out that it wasn't a deal breaker.
The engine's turbo helped the truck to quickly pick up the pace. That wasn't a surprise. The quiet acceleration was. The other reporter in the cab shared the sentiment of how well Nissan had toned down the diesel's purr. It wasn't completely muzzled though. There was clearly a diesel under the hood.
The towing challenge came as a surprise. While going up a six percent grade on Arizona's highway 87, the truck was able to easily hold on to its 60-mph run while hauling a 9,000 pound double-axle utility trailer on the rear hitch. It was nice not getting passed by annoyed drivers.
Interestingly enough, the truck's Aisin transmission is the same transmission used in the Ram 3500, which is rated to tow 30,000 pounds.
The downhill run was even better. With the tow mode engaged (it's located on the end of the shift lever), the truck's engine break kicked in and, with my foot off the gas, easily held the truck at 60-mph while traveling down the steep grade. There was no swaying. The truck was doing an impressive job helping to control the load. It made for a very comfortable ride.
The large extendable tow mirrors, with additional views, made making a U-turn across the highway much easier.
While still cruising downhill, all four 14-inch rotors went to work fast to bring the truck and trailer to a fast stop. The truck had brakes to spare.
Following the tow challenge, Nissan demonstrated the trailer light check feature. Instead of having to call on someone else to tap the brakes and turn on the blinkers, Titan XD's remote allows for a quick test through the remote. Nice!
Off-road Performance
A simple turn of the transfer case knob on the dash engaged the truck in 4-wheel drive just prior to taking on the challenging Ride Comfort Course in Fort McDowell Adventures.
The Titan XD took all the dirt, bumps, rocks and holes that Nissan's off road track designers could deliver. Hydraulic rotational ball steering helped negotiate the course. The truck made it all look pretty easy.
But so did the GMC 2500 and Ford F250 that Nissan provided for comparison. However, where the trucks did differ was in suspension: the Titan XD provided a smoother ride.
A nod is in order for Nissan's description of the truck's suspension:
"The double-wishbone with stabilizer bar front suspension is reinforced and tuned for hard use and the rigid rear axle suspension utilizes hefty leaf springs and leaf bushings, along with twin-tube shock absorbers."
The Titan PRO 4XD features Billstein shocks that can take even more abuse, I'm sure.
No matter the terrain, Nissan offers wheels and tires that will meet the needs of most drivers: 17-inch, 18-inch or 20-inch aluminum-alloy wheels with LT245/75R17, LT275/65R18 or LT265/60R20 tires for strong all-weather/all surface traction.
Brutal Testing
Save for a few jokes about Area 51, most everyone had been quiet on the bus as it neared the gate to Nissan's testing facility on the outskirts of Scottsdale. Reporters were issued stickers to place over the camera lenses of their cell phones.
Also known as Nissan's proving grounds, this is where the latest vehicles are put to the test while often wrapped in ugly black and white checkered patterns. The patterns, of course, are meant to camoflouge the autos from prying eyes.
Though the reporters put the Titan XD through some tough challenges, none compare to the durability tests at Nissan's proving grounds.
The Titan XD was quite simply abused (see HWT's 'Titan XD undergoes abusive tests' for more information).
Running at roughly 20 mph, the truck ran head-on into curbs, skidded across a rugged, brick path and slammed sideways into a curb. Amazingly enough, the same truck used during one month of testing, never required an alignment.
Driving through the 16-inch deep water test canal was interesting. A second or two into the canal, the truck's sensors triggered the cameras and provided a view of sloshing water near both front tires and revealed where the truck was in proximity to the canal's walls.
This wasn't the first time that the truck's sonar system proved impressive. On the previous day, someone walked in front of the parked truck and set off a perimeter alarm. It wasn't annoying—that is to say the alarm. A series of beeps filled the cab while the truck's monitor flashed on and revealed a Nissan representative marching in front of the truck towards lunch.
The frame twist ride made me wince, but didn't phase the truck. The alternating humps and valleys recalls Nissan's talking points that the new frame of the Titan XD is borrowed from their commercial vehicle line. It has 20-inch longer wheelbase than the non-Titan XD.
The test track offered paths with plenty of turns and terrain. While running over a stone-laden road, it was still easy to carry on a conversation.
Nissan's Titan XD is a highly respectable truck that offers plenty of power and fuel efficiency through a powertrain with a proven pedigree. The truck's foundation is impressively strong. From there, the automaker provides an array of options and innovative features that will please a wide range of drivers.
While not providing a specific date, Nissan reported that Titan XD will go on sale later this year and will initially be offered in a crew cab configuration only. Prices vary depending on the model. Estimated pricing for the XD S Crew Cab 4×2 is $40,0000; the XD Crew Cab PRO-4X, $50,000; and the XD Platinum Reserve Crew Cab 4×4, $60,000. Fuel mileage information has not yet been released.