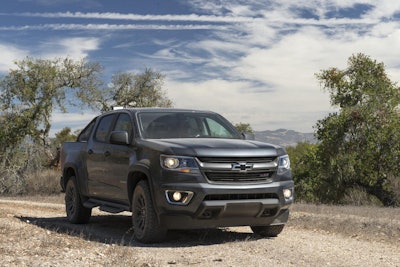 General Motor's new 2.8 liter Duramax not only passed a Volkswagen-scandal-inspired emissions testing, but it emerged the undisputed pickup fuel efficiency champion.
At an Environmental Protection Agency (EPA)-estimated 31 mpg highway fuel economy, Chevrolet's two-wheel drive 2016 Colorado Duramax turbo-diesel, and GMC's Canyon, will be the most fuel efficient pickup in America.
The EPA-estimated highway fuel economy for 2016 Colorado/Canyon four-wheel drive diesel is 29 mpg (23 mpg combined.) The pickup's fuel mileage estimates, along with a Certificate of Conformity for the Duramax diesel, were released Monday.
GM's 2.8 liter Duramax was caught in the crossfire of Volkswagen's diesel emmission scandal, in which the German automaker is accused of installing defeat devices lowered reported emissions as a means to pass EPA testing.
The EPA expressed no issues or concerns following its recent extensive testing and evaluation of the emission control system on the Colorado/Canyon Duramax diesel.
"The Colorado Duramax diesel is in a league of its own," says Sandor Piszar, director of Chevrolet Truck Marketing. "Colorado's gas models already led the segment in fuel efficiency, and the new diesel – which no other non-GM competitor offers on a midsize truck – gives customers even greater freedom to go where they want with fewer fill-ups."
The 2016 Colorado diesel 2WD offers an EPA estimated 22 mpg city and 25 mpg combined. The 4WD model offers an EPA estimated 20 mpg city and 23 mpg combined. With the Colorado's 21-gallon fuel tank, the 2WD model offers an estimated maximum highway range of 651 miles per tank.
Colorado's all-new 2.8 liter Duramax turbo-diesel engine, paired with the Hydra-Matic 6L50 six-speed automatic transmission, generates 181 horsepower and 369 lb-ft of torque.
Colorado's diesel also features a smart exhaust brake, which enhances vehicle control and reduces brake wear by reducing the need for breaking on downgrades. An integrated trailer brake controller works with the antilock brake system to provide immediate and measured brake force, eliminating the need for an aftermarket trailer brake controller.