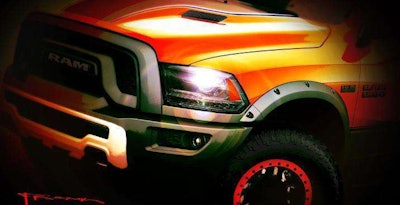 Manufacturers nationwide are loading haulers with some of their most customized vehicles to-date and pointing them west toward Las Vegas.
We've already seen some of the Specialty Equipment Market Association (SEMA) Show entries for Chevy and Ford. However, not wanting to fully show its hand ahead of the November show, Ram would only offer a glimpse of what appears to be a Ram Rebel 1500 it plans to display Nov. 3-6 at the Las Vegas Convention Center.
A mix of production and concept Mopar products have been bolted on to transform seveal vehicles, including entries from Chrysler, Dodge, Jeep, Ram and FIAT, demonstrating how the Mopar brand can help owners personalize their rides.
Nearly 20 vehicles, as well as hundreds of Mopar parts and accessories, will fill the 15,345-square-foot Mopar SEMA exhibit.