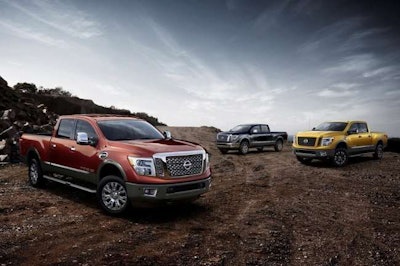 Nissan's first new pickup truck in more than a decade, is coming in like a lion.
Nissan's TITAN XD, and its 5-liter Cummins turbodiesel engine, was named the Truck of Texas by the the Texas Auto Writers Association (TAWA).
TITAN XD's diesel offers 310-horsepower and 550-lb.ft. of torque, and can tow more than 12,000 pounds with payload capacity of 2,000 pounds. Pricing has not yet been announced, but it will be in showrooms in December. A gasoline-powered version will follow.
"This year's Truck Rodeo was the largest yet, with about 80 vehicles to evaluate and 69 journalists from 13 states. It is considered the premier truck event in the country," says Linda Water Nelson of INSIDEout: Cars & Trucks. Nelson, a long-time journalist, is the sports vehicle columnist for publications including Texas Fish & Game Magazine and Gaff Magazine.
"As one of the first to drive this, I was impressed with the strides Nissan has made," she adds. "We take the trucks on road and off in a ranch environment and aren't patsies for a pretty face. Every truck manufacturer has upped their game so the competition is very meaningful. Texas is, after all, the nation's largest truck market."
There were 11 vehicles in the category, from Chevrolet, Ford, Nissan, Ram and Toyota. The Ford F-150, last year's winner, came in second after a voting tie with the 2016 Toyota Tacoma. Nelson adds that it is unusual for a mid-size truck to excel in the overall category competing against much larger pricier vehicles, but the Texas-built Tacoma was one of the top three.