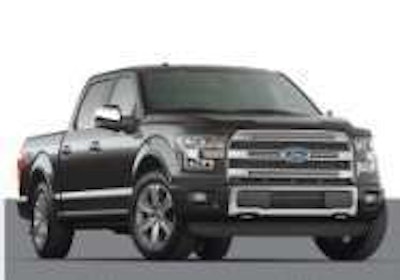 Ford's integration of high-strength aluminum in its 2015 F-150 wasn't a fad. The company announced Monday is will up the aluminum ante with the 2016 model year pickup.
The Detroit automaker says it will partner with Alcoa Inc. to produce next-generation automotive aluminum alloys that the companies believe will be more formable and design-friendly, and will use Alcoa's Micromill material in multiple components on the 2016 F-150.
''Light-weighting enables us to design vehicles with great customer attributes – like the F-150, which can tow more, haul more, accelerate quicker and stop faster than the previous F-150, and is more fuel-efficient than ever," says Raj Nair, Ford group vice president and chief technical officer, Global Product Development. "This collaboration supports our continued drive for innovation, as we research automotive applications for even greater light-weighting."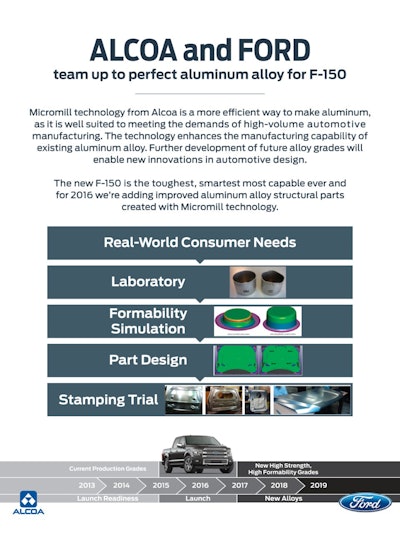 Ford will become the first automaker to use the advanced automotive aluminum commercially. Alcoa's Micromill technology, announced in December 2014, produces an aluminum alloy that is 40 percent more formable than today's automotive aluminum.
"Alcoa's breakthrough Micromill technology offers highly differentiated automotive material with strength, weight, formability and surface quality combinations previously impossible," Klaus Kleinfeld, Alcoa chairman and chief executive officer, says. "This high-tech aluminum will give Ford a true material edge enabling greater design flexibility and better vehicle performance – making the concept cars of tomorrow a reality."
The increased formability of Micromill aluminum should make it easier to shape into intricate forms, like the inside panels of pickup doors and external fenders.
"The door inner is one of the most difficult parts in automotive stamping," says Peter Friedman, Ford global manager of structures and stamping, Research & Advanced Engineering. "The ability to produce an alloy using Alcoa's Micromill technology to make that part is a real statement for how this process can benefit the automotive industry and Ford in particular. We believe the technology can be used to develop new alloys that will improve our ability to form complex parts, which will help in both design and efficiency."
The increased material strength allows for the use of thinner aluminum sheet without compromising dent resistance and by using the highly formable material, parts constructed of multiple pieces can be manufactured as a single part.
Ford will begin using Micromill material in 2016 F-150 production in the fourth quarter of 2015, and says it plans to increase its use over the next several years on a range of vehicle components and future platforms.
Aluminum alloy produced using the Micromill process has already been validated by Ford engineers to ensure it meets the requirements for producing high-quality parts, especially the kinds of complex structures that make up F-150.